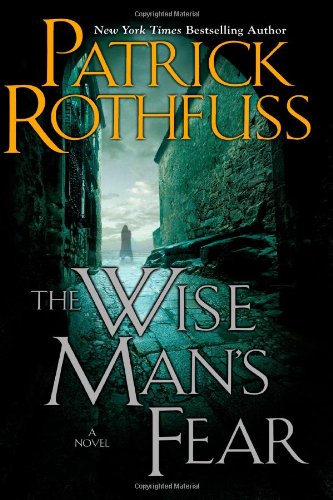 Publisher's Note:
My name is Kvothe. I have stolen princesses back from sleeping barrow kings. I burned down the town of Trebon. I have spent the night with Felurian and left with both my sanity and my life. I was expelled from the University at a younger age than most people are allowed in. I tread paths by moonlight that others fear to speak of during day. I have talked to Gods, loved women, and written songs that make the minstrels weep. You may have heard of me... So begins the tale of a hero told from his own point of view—a story unequalled in fantasy literature...
The Wise Man's Fear
by Patrick Rothfuss
Overall Review:
The Wise Man's Fear is the second book of the Kingkiller Chronicle by Patrick Rothfuss. This book continues the adventures of Kvothe, teenage bard warrior and talented arcanist. Kvothe has such a depth and personality that he is quickly becoming one of the most memorable characters in the genre. Rothfuss' writing provides Kvothe with such a wonderful world to interact in that you forget that the places the author takes you to are pure fantasy. The story is cleverly presented in first person by the main character revealing his heroic past to the King's Chronicler. This is masterfully done by Rothfuss. His clever dual story telling about Kvothe in the past and what is happening currently is truly original and thoroughly entertaining. The connections to both story lines, even though the present story line is shrouded in mystery, are so strong the reader feels as though you are getting two wonderful stories in one telling.
It should be said of The Wise Man's Fear that the main character, Kvothe, is only 16-17 years old, but the book deals with the mature themes. Rothfuss does not pull many punches when discussing violence, sexual content, or language. With that said, the novel is a fantasy book to its core complete with its own set of rules and behavioral norms for each of the fantastic cultures and societies that are found in its pages. Entwined in this exquisite fantasy story are lessons and themes that apply in our world today, making the book even a more enjoyable read.
The book is entertaining and once again leaves the reader excited for more. I can't wait for book three!
Content Analysis:
Profanity/Language: 36 religious exclamations; 55 mild obscenities; 37 religious profanities; 47 derogatory names; 23 scatological words; 1 offensive hand gesture; 1 f-word derivative.
Violence/Gore: Character uses magic to kill bandit camp (eyes, kidneys and throat slashes all very descriptive); flash back to street fight (includes broken bones and teeth loss); flash back to brutal death of parents; second hand accounts of war with death and wounding of soldiers; numerous sparring scenes with physical violence similar to boxing or karate matches; second hand account of killing bandit guards; magic violence akin to voodoo doll; history book tells the account of mass murderer that dissected victims; destruction of property; folklore story of character being shot through the heart with an arrow; goring, systematic hunting, and killing of traveling group of thieves that kidnapped two young girls; rape of minors is referenced but not described; numerous implied threats.
Sex/Nudity: Married and un-married characters flirt with sexual innuendo; several sexual references mostly in jokes, innuendo, and dialogue; characters sunbath on rocks with little more the underwear; reference to homosexuality; moneylender implies that sexual favors could be taken for payment; character breaking into hotel room sees group sex activity (not described); candid discussion about being a prostitute involving what kind of prostitute to be (i.e. high class vs. low end); serving girl and tavern owner flirting heavily and candidly discussing sexual activity; folklore story about a fairy character that "loves" her victims to death (non-descriptive); character actually meets fairy character and spends weeks with her, they engage in sexual activity, she teaches him magic and sex, they are naked the entire time, 1 extended scene with graphic depiction of sexual activity; character encounters a fantasy culture that regards casual sex as completely normal regardless of number of partners or privacy; character engages in numerous sex acts with above culture (non-descriptive); discussion about a king that needs to produce an heir.
Mature Subject Matter:
Death of family members, poverty, underage drinking, prostitution, gambling, mental disorders, child abuse, robbery, breaking and entering, assault and battery, rape of a minor, war, vandalism.
Alcohol / Drug Use:
Numerous taverns with drinking and gambling; reference to drug addiction; reference to a fantasy drug similar to speed and heroin mixed together; underage drinking.
Reviewed By Matthew