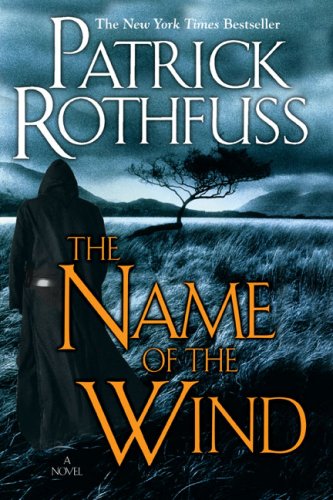 Publisher's Note:
Told in Kvothe's own voice, this is the tale of the magically gifted young man who grows to be the most notorious wizard his world has ever seen.The intimate narrative of his childhood in a troupe of traveling players, his years spent as a near-feral orphan in a crime-ridden city, his daringly brazen yet successful bid to enter a legendary school of magic, and his life as a fugitive after the murder of a king form a gripping coming-of-age story unrivaled in recent literature. A high-action story written with a poet's hand, The Name of the Wind is a masterpiece that will transport readers into the body and mind of a wizard.
The Name of the Wind
by Patrick Rothfuss
Overall Review:
The Name of the Wind is the first installment of the Kingkiller Chronicles by Patrick Rothfuss. In the genre of fantasy many arch-types exist. We all know them: the wise wizard, the mighty knight, the crafty ranger, and the clever rogue. They live in worlds that have similar rules and storylines: good versus evil, magic and mystery, dungeons, and dragons. Patrick Rothfuss has taken all these aspects of fantasy and mixed them together into an original, entertaining, and maybe most importantly, a surprising story that holds the reader's attention. The story is never predictable. The voice and language is eloquently crafted. The main character is memorable, interesting, and clever as the story teller. Rothfuss makes observations and points that apply in our real world today. Best of all, the reader finishes the book grateful in the knowledge that this is the first book of a series and that there is more to come. Excellent book!
Content Analysis:
Profanity/Language: 16 religious exclamations; 55 mild obscenities; 12 religious profanities; 29 derogatory names; 10 scatological words; 1 offensive hand gesture.
Violence/Gore: Character returns to find family and friend brutally murdered; few incidences of street violence (mugging, fighting, destruction of property); two first-hand accounts of being whipped, one extended and one short; second-hand report of mass death; first-hand account of industrial accident that damaged property, caused injuries, and was life threatening; characters find collapsed house with body parts as evidence of death; fantasy violence involving make believe character; physical threat of bodily harm that was graphic in nature (i.e. torture, disemboweling, dismemberment); characters fight a man possessed by a demon, bone breaking and graphic blood.
Sex/Nudity: Several instances of married and un-married characters flirting with sexual innuendo; several sexual references mostly in jokes, innuendo, and dialogue; characters cuddle; woman answers door wearing nothing but a bed sheet; clinical nudity in hospital; reference to homosexuality; second hand story told of witnessing a girl dancing naked in the street, in winter and promising "anything" to a drug dealer.
Mature Subject Matter:
Death of family members, poverty, underage dringing, prostitution, gambling, mental disorders, homelessness, child abuse, robbery, breaking and entering, assault and battery.
Alcohol / Drug Use:
Numerous taverns with drinking and gambling; reference to drug addiction; reference to a fantasy drug similar to speed and heroine mixed together.
Reviewed By Matthew