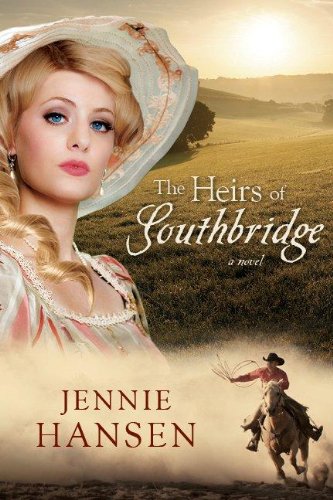 Publisher's Note:
When tragedy strikes Southbridge plantation, young Clayton and his brother, Travis, are forced from the only home they've ever known. Fleeing the drunken rage of their grandfather, with bounty hunters and horse thieves thick on their trail, the boys and their father try to eke out a lonely life as fugitives and cowboys. As Clayton nears adulthood, his greatest desire is for a strong and stable family, but his father's death and his brother's departure leave him more alone than ever. Seeking for roots, Clayton visits Southbridge en route to college and kneels on his mother's grave, only to be accosted by a gun-wielding girl named Lucy, whose father will stop at nothing to make the plantation his own. Can Clayton realize his deepest desires of marrying the woman he loves, having a family, and reclaiming the plantation that is his rightful heritage?
This book was sent to Compass Book Ratings for review by Covenant Communications
The Heirs of Southbridge
by Jennie Hansen
Overall Review:
The initial chapters of this story span many years and quickly cover many significant occasions. The author's jumping between characters, locations and events is a little hard to follow at first. Once adjusted to the format of the book, readers will find themselves longing to travel back to the 1880s and visit the southern plantations, the rugged frontier and New England. Spunky characters like Lucy Elliot bring amused smirks and lighthearted energy. The story begins like a southern evening slow and steady, but as it passes the halfway point, the pacing quickly propels readers forward to the finish. Hansen left the stories of many peripheral characters incomplete and a sequel would be welcomed. An easy read which leaves one to ponder the deeper meaning of family and loyalty.
Content Analysis:
Profanity/Language: None.
Violence/Gore: Characters threaten bodily harm to other characters; Grandparent threatens grandchild and in one instance hits him; Characters hit other characters with fists or objects: Teen shoots a character; A few scenes depicting characters shot by others, little detail; bodies described as mutilated; character slashes another with knife; Wounds described as dripping blood and part of face missing.
Sex/Nudity: Non-married characters link arms and hold hands; Characters hug or put arms around one another's waists; Non-married characters kiss.
Mature Subject Matter:
Death of family member, racial bias, religious persecution, socioeconomic profiling, war, addiction, infidelity, robbery/thieving, murder, manipulation.
Alcohol / Drug Use:
Character drinks steadily.
Reviewed By Susan