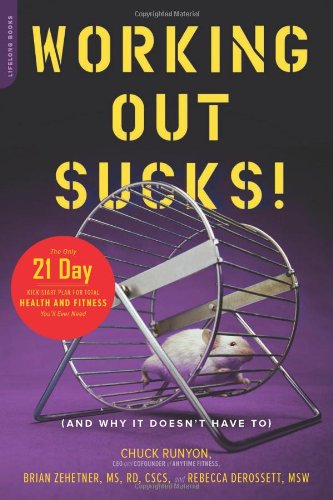 Publisher's Note:
Tired of diet books that promise to change your life in five minutes? Tired of trying to get healthy and fit—and really getting nowhere? Chuck Runyon, Brian Zehetner, and Rebecca DeRossett are here to confirm what you already know: Working out sucks. The good news? With the new approaches in this book, that is about to change.
Working Out Sucks! deprograms those of us who have long been brainwashed by unhealthy habits, destructive attitudes, and misinformation about health, and offers a no-nonsense way to get back on track. Because, while working out may suck, the alternatives—from heart disease to premature aging and shortened lifespan--are a lot worse. As he does in his 1,700 Anytime Fitness clubs (with more than one million members worldwide--and growing), Runyon emphasizes user-friendliness and utility in this get-real, get-healthy message, complete with Zehetner's 21-day kick-start plan and DeRossett's tips for mental health.
Working Out Sucks!
by Chuck Runyon
Overall Review:
The title of this book seems contrary to the current trends of today. The honesty in this work is a refreshing change from the typical exercise and fitness offerings. The authors debunk many common myths regarding exercise and nutrition. Contained within the pages are many short, concise and informative chapters covering everything from root causes of obesity to a discussion of supplements. There is a small plug for the website run by the author and aside from that most of the book tends to avoid endorsing any specific brands. Much of the information is not new, but there are some interesting and useful tidbits to be found. The book concludes with a 21-day nutrition and fitness program which includes a complete menu.
Content Analysis:
Profanity/Language: 1 religious exclamation; 3 mild obscenities; 1 derogatory name; 3 anatomical terms.

Violence/Gore: Character wants to burn a backpack, figuratively; Author wants to slap a person; Child scratched and clawed doctors; Teen's hip broken for medicinal reasons; Character contemplated suicide.
Sex/Nudity: Mention of egg and sperm uniting; A few mentions of people desiring more or less sex; One 2.5 page chapter entitled "Dude, Get Your Hard On!" which describes benefits of exercise on sexual activities using words such as arousal, orgasm, strength, stamina and positions, not graphic.

Mature Subject Matter:
Depression, divorce, teen pregnancy, sexual abuse, sex addiction, domestic violence, racism, discrimination.
Alcohol / Drug Use:
A few mentions of people drinking, often followed by cautions against overindulgence. A brief mention of drug abuse. A teen is said to have "buried himself" in alcohol.
Reviewed By Susan