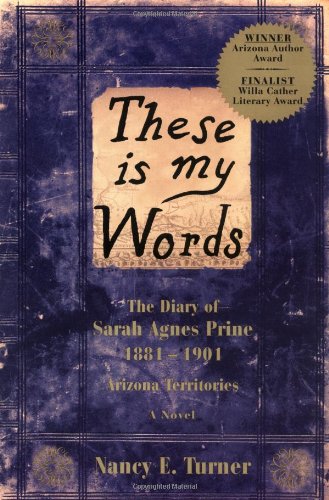 Publisher's Note:
In a compelling fiction debut, Nancy E. Turner's unforgettable These Is My Words melds the sweeping adventures and dramatic landscapes of Lonesome Dove with the heartfelt emotional saga of Oldest Living Confederate Widow Tells All.
Inspired by the author's original family memoirs, this absorbing story introduces us to the questing, indomitable Sarah Prine, one of the most memorable women ever to survive and prevail in the Arizona Territory of the late 1800s. As a child, a fiery young woman, and finally a caring mother, Sarah forges a life as full and as fascinating as our deepest needs, our most secret hopes and our grandest dreams. She rides Indian-style and shoots with deadly aim, greedily devours a treasure trove of leatherbound books, downs fire, flood, Comanche raids and other mortal perils with the unique courage that forged the character of the American West.
Rich in authentic details of daily life and etched with striking character portraits of very different pioneer families, this action-packed novel is also the story of a powerful, enduring love between Sarah and the dashing cavalry officer Captain Jack Elliot. Neither the vast distances traveled nor the harsh and killing terrains could quench the passion between them, and the loss and loneliness both suffer only strengthen their need for each other.
While their love grows, the heartbreak and wonder of the frontier experience unfold in scene after scene: a wagon-train Sunday spent roasting quail on spits as Indians close in to attack; Sarah's silent encounter with an Indian brave, in which he shows her his way of respect; a dreadful discovery by a stream that changes Sarah forever; the hazards of a visit to Phoenix, a town as hot as the devil's frying pan; Sarah's joy in building a real home, sketching out rooms and wraparound porches.
Sarah's incredible story leads us into a vanished world that comes vividly to life again, while her struggles with work and home, love and responsibility resonate with those every woman faces today. These Is My Words is a passionate celebration of a remarkable life, exhilarating and gripping from the first page to the last.
These is My Words
by Nancy E. Turner
Overall Review:
The setting of Texas and Arizona in the 1880s makes for a gripping and moving read. The book spans nearly twenty years of Sarah Prine's life and has the reader laughing and rejoicing one moment and sobbing in sorrow the next. The book is written as journal entries following Sarah and her family as they migrate and start anew. The author has some poetic descriptions of life events and uses words to subtly craft the intellectual development of Sarah. Fast paced this book was not, but rather thought provoking and heart wrenching. A truly realistic depiction of life on the frontier and the courageous men and women who took the challenge to conquer the perils of the untamed land. Readers will be pleased to note this is the first installment of a trilogy.
Content Analysis:
Profanity/Language: 7 religious exclamations; 11 mild obscenities; 1 religious profanity.

Violence/Gore: Many brief mentions of war injuries; Children pretend to shoot one another with sticks and several other imitations of war; Several encounters with natives containing mild detail of shootings, burnings, arrow injuries and deaths, one instance covers 5 pages; Many brief descriptions of injuries including amputations, burns, snake bites, cuts and broken arms; Character dies from snakebite; Character shoots and kills multiple people in a few instances of self-defense; 39 women and children slaughtered without apparent provocation, little detail; Character threatens to shoot, slap or switch other characters; Character dreams about animals "cutting" her "to ribbons"; Animal cuts head and there is "blood everywhere;" Characters go hunting for food on a few occasions; Five sentences describing a naked, bloody body covered with ants; Dog run over by wagon and killed, no details; Character drug to death by horse some details; Two characters die in fire, little detail; Second hand reports of killings during stage and train robberies, no details; Woman murders her infant son and is shot by her husband, little detail; Child hits a sibling with object after being provoked.

Sex/Nudity: Many instances of characters kissing, both married and non-married;A few times characters are bathing, little detail; Character describes another being raped multiple times in one event and another character is interrupted during an attempted rape, some non-graphic detail; A few mentions of floozies, harlots, hussies and wanton women;Characters discuss in vague terms how to "get" babies; Adult male and female character sleep together in completely non-sexual circumstances; Characters hold hands and hug; A few instances of married characters making love or "knowing" one another, no details; A few instances of characters disrobed partially or completely to treat injuries.
Mature Subject Matter:
Native American conflicts, rape, infidelity, robbery, murder, death of family members, death of pet, rape, war, murder of one's child and spouse.
Alcohol / Drug Use:
A few mentions of characters behaving like drunks, but very little actual alcohol consumption. Two adult characters consume alcohol that is watered down. Characters take vow of abstinence.
Reviewed By Susan