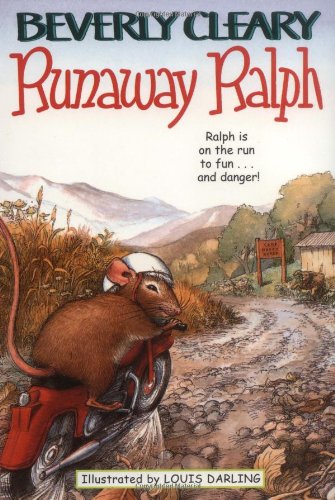 Publisher's Note:
Runaway Ralph
by Beverly Cleary
Overall Review:
Runaway Ralph by Beverly Cleary is a classic for a reason. Ralph, the protaganist, may be a mouse, but he has sentiments and feelings that young children can easily relate to. Under that mouse skin, is the heart of a boy. In addition, the supporting characters are charming and because of Cleary's spot-on descriptions they are effortless to visualize. This book is an easy read for a young reader or a read aloud. (An outstanding audio version is also available.) Re-discover a classic with your children with its timeless themes of independence and home!
Content Analysis:
Violence/Gore: A character has a minor accident on a motorcycle resulting in a few scratches and bruises; a character sings some camp songs that suggest violence to animals (bopping field mice on the head, etc.)
Mature Subject Matter:
Running away from home.
Alcohol / Drug Use:
***
Reviewed By Cindy