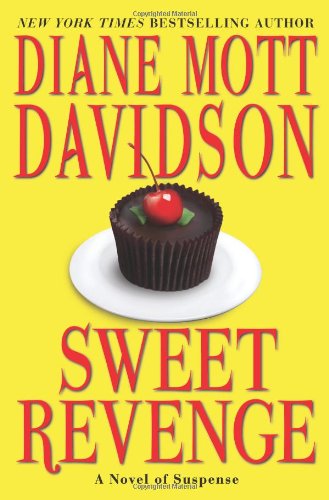 Publisher's Note:
Goldy Schulz is thrilled to be catering a holiday breakfast feast for the staff of the Aspen Meadow Library. But little does she know that on the menu, alongside the Great Expectations Grapefruit, Chuzzlewit Cheese Pie, and Bleak House Bars, is a large helping of murder.
While setting up at the library, Goldy spots a woman lurking in the stacks who bears a striking resemblance to Sandee Brisbane—the Sandee Brisbane who killed Goldy's ex-husband, the Jerk. But Sandee is supposed to be dead. Or so everyone believes.
Goldy's suspicions mount when the body of Drew Wellington, a former district attorney, is found in a corner of the library with a map worth thousands of dollars stashed in his clothing. She's convinced that Sandee is involved.
But the holiday madness is only just beginning for Goldy. Soon she's drawn into the dangerous, double-crossing world of high-end map dealing. And like the ghost of Christmas past, Sandee keeps making an appearance. Could she be out to prove that revenge is sweet?
Sweet Revenge
by Diane Mott Davidson
Overall Review:
Sweet Revenge is the fourteenth book in a series featuring Goldy Schultz, a professional caterer. Although reading the previous books helps with more detailed character analysis and greater understanding of subplot lines, this book can be read as a standalone story. Those having read other works by Davidson will find similar plot and character development. One potentially distracting aspect of this tale is the redundant mention of previous plot lines from earlier installments in the series. The reader might feel the author has no confidence in his ability to recollect details provided on preceding pages. Readers will find mouthwatering descriptions of scrumptious foods and be deliciously entertained by Goldy's somewhat naughty antics as she attempts to solve a murder and avoid becoming a victim. As a reward for all of the salivating done over the yummy dishes described, readers are given many of the recipes mentioned in the story.
Content Analysis:
Profanity/Language: 62 religious exclamations; 45 mild obscenities; 19 derogatory names; 5 scatological words; 6 anatomical terms.
Violence/Gore: Character reports a few times another character was shot and killed; characters threaten others with knives, cattle prods, hands or injury to family; character is found murdered and murder is referenced many(21+) times; a character being poisoned mentioned several (15+) times; dead character discovered in bloody water; character discusses possibility of accidentally cutting off fingers, no details; characters shove one another, pull hair and hit one another; an instance of a child being struck by an adult; a few discussions of a character jumping into a fire; blood on a knife mentioned a few times; character involved in non-lethal car crash; window is broken by knife embedded snowball; character is stabbed; character has head bashed.
Sex/Nudity: Few instances of married characters hugging, kissing on cheek and squeezing hands; character undresses injured spouse no sexual implications; few mentions of adult character liking teenage characters; adult characters ply teen characters with alcohol and have them dress in lingerie; a character implies she and her spouse will be "in bed;" a few brief mentions of affairs and infidelity; brief, non-descriptive scene of married characters having sex in the shower; teen character invites young adult character to see her room; a few very brief mentions of character being raped, no details; brief mention of father molesting a child, no details; one character jokes that another character could be looking at "kiddie porn."
Mature Subject Matter:
Divorce, rape, molestation, spousal abuse, infidelity, robbery, murder, pornography, underage drinking, strippers, dishonesty.
Alcohol / Drug Use:
Many mentions of characters drinking socially; character uses stolen prescriptions; one character is an alcoholic; adult characters give alcohol to minors; characters cook with alcohol.
Reviewed By Susan