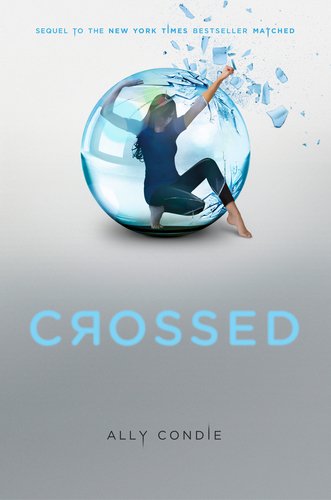 Publisher's Note:
Chasing down an uncertain future, Cassia makes her way to the Outer Provinces in pursuit of Ky--taken by the Society to his sure death--only to find that he has escaped into the majestic, but treacherous, canyons. On this wild frontier are glimmers of a different life and the enthralling promise of a rebellion. But even as Cassia sacrifices every thing to reunite with Ky, ingenious surprises from Xander may change the game once again.

Narrated from both Cassia's and Ky's point of view, this hotly anticipated sequel to Matched will take them both to the edge of Society, where nothing is as expected and crosses and double crosses make their path more twisted than ever.
Crossed
by Ally Condie
Overall Review:
Picking up a few months after the previous book, Ally Condie does not disappoint with book two of the trilogy. This book is written with a little different perspective as each chapter switches back and forth between two main characters. Reading the two perspectives really adds to the suspense and makes for a very interesting read. The story takes place in the wild whereas the first of the series was in The Society (a much more civilized and controlled environment), thus creating an atmosphere and feel unlike book one. The plot thickens, getting even more interesting with new characters and unexpected situations. One of the main characters, Cassia, proves to be an incredibly strong character, much more so than anticipated due to her easy upbringing. Another page turner, this book was full of suspense, romance, heartbreaking deaths and frequent surprises. I highly recommend this book and look forward to seeing how everything turns out in the final book of the trilogy!
Content Analysis:
Profanity/Language: Few (2) instances of mild obscenities.
Violence/Gore: Several (18) brief instances including but not limited to people being shot; dead, burned bodies; claw marks on face (insinuating someone scratched character); shooting guns at aircrafts; fist fight.


Sex/Nudity: Several (20) brief instances including hand-holding; kissing; hugging; touching hand, lips or arms; daydreaming of kissing or holding hands.
Mature Subject Matter:
War; Death; Seeing and disposing of dead bodies; Death/Funeral of a child; Death of family members.
Alcohol / Drug Use:
Characters are given pills to help them deal with stress. Characters are also given pills that they are told will help with hunger and other pills that make them forget things.
Reviewed By Jenny