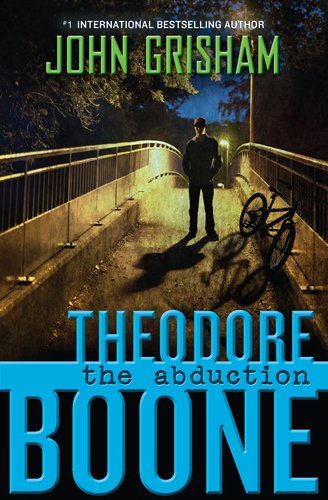 Publisher's Note:
Theodore Boone is back in a new adventure, and the stakes are higher than ever. When his best friend, April, disappears from her bedroom in the middle of the night, no one, not even Theo Boone--who knows April better than anyone--has answers.

As fear ripples through his small hometown and the police hit dead ends, it's up to Theo to use his legal knowledge and investigative skills to chase down the truth and save April.

Filled with the page-turning suspense that made John Grisham a #1 international bestseller and the undisputed master of the legal thriller, Theodore Boone's trials and triumphs will keep readers guessing until the very end.
Theodore Boone: The Abduction
by John Grisham
Overall Review:
In Theodore Boone: The Abduction, John Grisham tries his hand at writing for kids. Although this is the second book in a series, it is not necessary to have read the first book so feel free to jump right in. The storyline is a mix of investigation and kid lawyer, which is actually a refreshing entry into children's literature. With mild content, this book could easily be enjoyed by readers as young as fourth or fifth grade, but with a 13 year old protagnist and because the case isn't juvenile in nature, there is upward appeal for older readers. I have a seventh grader who has been fickle lately in his reading tastes, but he picked up this book unprompted and finished it in one sitting. What more recommendation could you ask for?
Content Analysis:
Profanity/Language: 1 religous exclamation.
Violence/Gore: Report of a previous death; a body is found in a state of decomposition (no details).
Mature Subject Matter:
Child abduction, child abandonment.
Alcohol / Drug Use:
A character smokes a pipe. References to adult characters that have had drug convictions and are drug dealers. Reference to a man being drunk and a bar. Characters go to a frat party searching for someone.
Reviewed By Cindy