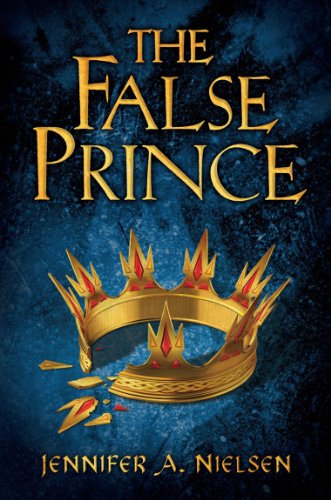 Publisher's Note:
THE FALSE PRINCE is the thrilling first book in a brand-new trilogy filled with danger and deceit and hidden identities that will have readers rushing breathlessly to the end.

In a discontent kingdom, civil war is brewing. To unify the divided people, Conner, a nobleman of the court, devises a cunning plan to find an impersonator of the king's long-lost son and install him as a puppet prince. Four orphans are recruited to compete for the role, including a defiant boy named Sage. Sage knows that Conner's motives are more than questionable, yet his life balances on a sword's point -- he must be chosen to play the prince or he will certainly be killed. But Sage's rivals have their own agendas as well.

As Sage moves from a rundown orphanage to Conner's sumptuous palace, layer upon layer of treachery and deceit unfold, until finally, a truth is revealed that, in the end, may very well prove more dangerous than all of the lies taken together.

An extraordinary adventure filled with danger and action, lies and deadly truths that will have readers clinging to the edge of their seats.
This book was sent to Compass Book Ratings for review by Scholastic
The False Prince
by Jennifer A. Nielsen
Overall Review:
The False Prince is the kind of book that grabs you the moment you pick it up. I read it quickly, kept on my toes by orphaned Sage's story from the first page to the last! I enjoyed the many twists and turns in the plot, and was impressed by Jennifer A. Nielsen's grasp of voice and dialogue. Although I was able to figure out most of the big surprises early in the book, I still enjoyed the intricate storyline and memorable characters. In many ways, The False Prince reminded me a lot of Megan Whalen Turner's The Thief, and I think that fans of Turner will enjoy Nielsen's writing as well.
There were a few things about The False Prince that I didn't love—a couple of the big revelations seemed clumsily written and very out of character with the rest of the book, and in general, the pacing of the second half of the book felt less polished and refined than the first half. Although I enjoyed the complexity of the plot, the many hints given early on in the book made it easy for me to see where the story was headed, and at times I felt that I would have liked a little more subtlety so that I was more surprised by the twists and turns of the book. However, my overall experience in reading The False Prince was good enough for me to overlook these issues, and it is still a book I would highly recommend to anyone who likes a great novel with plenty of adventure and political intrigue. I'm excited to see more from Jennifer Nielsen, and can't wait to read the rest of the books in this trilogy!
Content Analysis:
Profanity/Language:
***
Violence/Gore: A character threatens a group of boys on several occasions. On several occasions, orphans are generally manhandled and mistreated (shoved, hit with various objects, etc.). A girl has bruises on her face and it is implied she is mistreated by her employer. A character is knocked senseless. A character puts a noose around another character's neck and threatens to strangle him (he does not). A man shoots a boy with an arrow, killing him (no detail is given). A man throws a book at a girl. A boy threatens a man with a knife, and in another scene, a boy threatens another boy with a knife. A boy cuts another boy with a knife (he is not seriously wounded). A young character is whipped in a scene that lasts about two and a half pages (it is an emotionally intense scene, but not detailed or gory). A boy kills a man (there is very little detail given and the scene is handled quickly). A man beats a boy and threatens him. A character kills another character. On several occasions, men and boys practice swordplay. Two characters have a sword fight. Reference is made to a family being poisoned.
Sex/Nudity: A boy and a girl flirt briefly. A boy kisses a girl on the cheek. A girl is betrothed to marry a young man. A boy disrobes for a bath on two or three occasions (nothing is ever described except that he has a bath); one of these times, a girl accidentally walks in on him afterward when he is wearing a robe. A girl helps treat an injured boy's back after he has removed his shirt.
Mature Subject Matter:
The death of parents, deceit, treason, betrayal, taking responsibility.
Alcohol / Drug Use:
Adults drink wine; alcohol is used to clean wounds.
Reviewed By CindyB