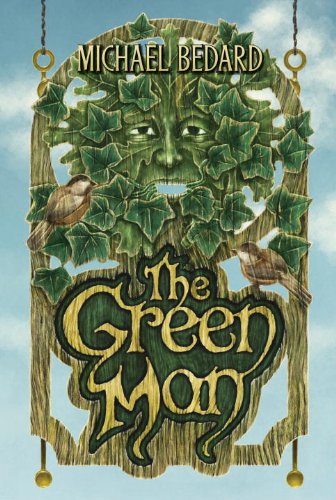 Publisher's Note:
Teenaged O – never call her Ophelia – is about to spend the summer with her aunt Emily. Emily is a poet and the owner of an antiquarian book store, The Green Man. A proud, independent woman, Emily's been made frail by a heart attack. O will be a help to her. Just how crucial that help will be unfolds as O first tackles Emily's badly neglected home, then the chaotic shop. But soon she discovers that there are mysteries and long-buried dark forces that she cannot sweep away, though they threaten to awaken once more. At once an exploration of poetry, a story of family relationships, and an intriguing mystery, The Green Man is Michael Bedard at his finest.
This book was sent to Compass Book Ratings for review by Tundra Books
The Green Man
by Michael Bedard
Overall Review:
"The trouble with poets was that most of them happened to be crazy. Either they started out that way or they wound up that way in the end."
In The Green Man by Micahel Bedard we learn that it is a dangerous and no light thing to be a poet. The book is an ode to poetry, but it is also a mash-up of mystery, magic, a touch of the supernatural, and a dash of romance. It is a mash-up that works quite well. The first part of the book is atmospheric and progresses deliberately, laying groundwork and piquing the reader's interest by never revealing exactly what kind of book it is. The last quarter of the book is a race to the end with excellent tension and suspense. The co-protaganists, O and her Aunt Emily, are likeable and charming. This is a recommended read for those who like to be a touch frightened and also for those who adore poetry.
Content Analysis:
Profanity/Language: 4 mild obscenities.
Violence/Gore: Report of a death by broken neck after a fall; a magic show performs frightening illusions; a character runs from another character and falls, hitting their head; a character falls and is in injured in a fire.
Sex/Nudity: In a dream a character kisses another character.
Mature Subject Matter:
Death of a parent.
Alcohol / Drug Use:
An adult character is a smoker; two adults and one minor-aged character make a toast with a glass of brandy.
Reviewed By Cindy