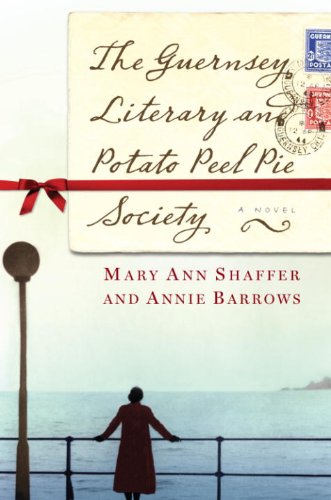 Publisher's Note:
" I wonder how the book got to Guernsey? Perhaps there is some sort of secret homing instinct in books that brings them to their perfect readers." January 1946: London is emerging from the shadow of the Second World War, and writer Juliet Ashton is looking for her next book subject. Who could imagine that she would find it in a letter from a man she's never met, a native of the island of Guernsey, who has come across her name written inside a book by Charles Lamb….

As Juliet and her new correspondent exchange letters, Juliet is drawn into the world of this man and his friends—and what a wonderfully eccentric world it is. The Guernsey Literary and Potato Peel Pie Society—born as a spur-of-the-moment alibi when its members were discovered breaking curfew by the Germans occupying their island—boasts a charming, funny, deeply human cast of characters, from pig farmers to phrenologists, literature lovers all.

Juliet begins a remarkable correspondence with the society's members, learning about their island, their taste in books, and the impact the recent German occupation has had on their lives. Captivated by their stories, she sets sail for Guernsey, and what she finds will change her forever.

Written with warmth and humor as a series of letters, this novel is a celebration of the written word in all its guises, and of finding connection in the most surprising ways.
The Guernsey Literary and Potato Peel Pie Society
by Mary Ann Shaffer and Annie Barrows
Overall Review:
Of all of the books I have read that deal with World War II, few have I loved as much as The Guernsey Literary And Potato Peel Pie Society. The only novel written by author Mary Ann Shaffer, Guernsey is a sweet, funny, and delightful look at a part of the war most people aren't familiar with—the occupation of the English Channel Islands by the Nazis. Told through letters sent to and from the main character, Juliet Ashton, the story is filled with vibrant characters and compelling plots—and, of course, a dash of romance! Even though I had actually read this book before, I couldn't put it down. Shaffer's prose is simple, wryly humourous, and engaging, and the voices of each of her characters come through so well that by the time I finished the book, I felt like they were all old friends. In many ways, Guernsey feels like a love letter to book lovers, filled with references to favorite authors and essayists and imbued with the theme of reading's transcendent power.
Although much of the novel deals with the harsh realities of war, the anecdotes are handled gently and the overall tone of the novel is life-affirming and joyful. One of my favorite things about Guernsey is the realistic portrayal of not only the citizens of the Channel Islands, but also the occupying German forces; unlike most World War II novels, Guernsey gives a true sense for the complicated nature of the relationship between Nazi soldiers and English citizens, and the complicated natures of the soldiers themselves—reminding the reader that regardless of nationality or allegiance, we are all simply human.
Overall, Guernsey is the kind of book that I will read over and over again! For lovers of historical fiction, reading, romance, or small-town life, Guernsey is the perfect read.
Content Analysis:
Profanity/Language: 24 religious exclamations. 20 mild obscenities. 1 religious profanity. 3 scatalogical terms.
Violence/Gore: A mention is made of an incident in which a chracter throws a teapot at another character's head (it is handled very humorously). A soldier points a gun at several people. A soldier is shot (no description at all is given). A character falls off a horse and breaks their leg (the incident is handled comically and no description is given). Throughout the book, there are second-hand references to terrible conditions in German work camps and to brutalities at German concentration camps. These references have varying levels of description; most of them are fairly impartial, but there are two or three references that have more description. One of these, while not graphic, is fairly emotionally intense. There is a brief reference to a murder (very little description). There is a recounting of euthanization of pets. There is a reference to a shipwreck and resulting deaths. There is a reference to a character being executed in a concentration camp.
Sex/Nudity: Characters flirt gently on numerous occasions. A few kisses are briefly referenced. A comical reference is made to a woman who concots "elixirs to restore manly ardor." A reference is made to "women of ill repute." A woman accuses another woman of having a child out of wedlock; a few passing references are made to this unmarried mother. A comment is made about the editors of an essay contest being glad not to read another word about sex (in the contest submissions). A reference is made to a brothel and to its inhabitants. A character is mentioned as being homosexual (nothing more is specified).
Mature Subject Matter:
War, death, orphaned children, concentration camps, war crimes, standing up for convictions despite great personal risk.
Alcohol / Drug Use:
A nurse smokes a cigarette. Several adult characters drink wine or other alcohol on different occasions; one story deals with a man's fondness for wine; a woman alleges that a man is a drunk; a story references an author getting drunk and having to be carried home; a man tells a woman she should travel by airplane instead of boat because the airline hostesses serve gin to the passengers.
Reviewed By CindyB