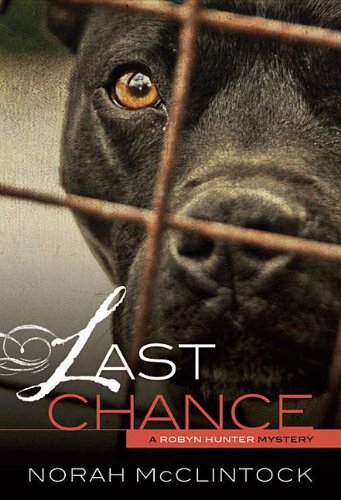 Publisher's Note:
Nick planted himself in my path. 'Hey,' he said. 'It's been bugging me since the first day, but now I know who you are.' His purple-blue eyes were as hard as amethyst. 'You're the girl who turned me in.'
Robyn's scared of dogs like, really scared. But she agrees to spend her summer working at an animal shelter anyway. (It's a long story.) Robyn soon discovers that many juvenile offenders also volunteer at the shelter--including Nick D'Angelo, a boy from Robyn's past. A boy she hoped to never see again.

Nick has a talent for getting into trouble, but after his latest arrest, Robyn suspects that he just might be innocent. And she sets out to prove it....
This book was sent to Compass Book Ratings for review by Lerner Publishing Group
Last Chance
by Norah McClintock
Overall Review:
This is book one of a great mystery series with a little bit of everything in it to represent the life of most typical (and not so typical) teenagers. The main character, Robyn Hunter, deals with a range of emotions: fear, boredom, frustration, embarrassment-- and there's a hint of a possible romance as the series continues. In the end, Robyn learns that people and situations aren't always as they seem and that often times, people deserve another chance. Most teenagers will be able to find many things they can relate to and will enjoy this book. It's even a fun, light read for an older crowd who might enjoy a little reminder of how life is as a teenager. The addition of the mystery twist makes this an even more interesting read as the reader tries to figure out how the story might resolve. This is an excellent and easy read that makes me look forward to continuing the series.
Content Analysis:
Profanity/Language: One mild obscenity
Violence/Gore: Many (~13) brief, non-detailed, second-hand reports of violence including report of a mother's murder by her husband; report of a child being attacked by a dog; report of statistics of results of dog bites; discussion of euthanasia of animals; accidental injury of a character; vandalism; a dog being kicked; report of child and spousal abuse; a hit-and-run accident resulting in death; a character threatens another with a knife, resulting in accidental injury.
Sex/Nudity: One instance of mild innuendo.
Mature Subject Matter:
Mild lying; rejudice against youth offenders; driving without a license; youth offenders living in group home; theft; drunk driving; bullying; breaking and entering; child neglect; stealing; murder. (Each incident/theme was mentioned with very little to no detail)
Alcohol / Drug Use:
An adult drinks wine with dinner; two adults celebrate with champagne; drunk driving; a drunk step-father.
Reviewed By Jenny