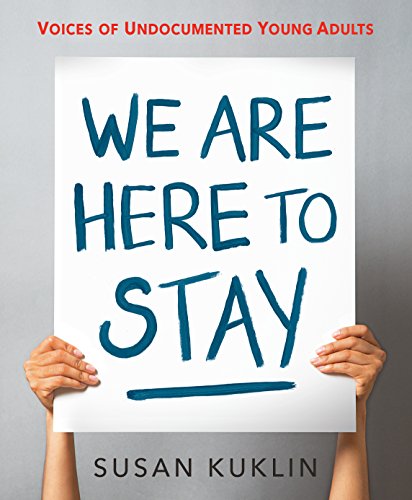 Publisher's Note:
The Stonewall Honor–winning author of Beyond Magenta shares the intimate, eye-opening stories of nine undocumented young adults living in America.
"Maybe next time they hear someone railing about how terrible immigrants are, they'll think about me. I'm a real person."
Meet nine courageous young adults who have lived in the United States with a secret for much of their lives: they are not U.S. citizens. They came from Colombia, Mexico, Ghana, Independent Samoa, and Korea. They came seeking education, fleeing violence, and escaping poverty. All have heartbreaking and hopeful stories about leaving their homelands and starting a new life in America. And all are weary of living in the shadows. We Are Here to Stay is a very different book than it was intended to be when originally slated for a 2017 release, illustrated with Susan Kuklin's gorgeous full-color portraits. Since the last presidential election and the repeal of DACA, it is no longer safe for these young adults to be identified in photographs or by name. Their photographs have been replaced with empty frames, and their names are represented by first initials. We are honored to publish these enlightening, honest, and brave accounts that encourage open, thoughtful conversation about the complexities of immigration — and the uncertain future of immigrants in America.
This book was sent to Compass Book Ratings for review by Candlewick Press
We Are Here to Stay
by Susan Kuklin
Overall Review:
We Are Here to Stay is a non-fiction account of a handful of teenagers and young adults who all have one thing in common. They came or stayed in this country illegally. Some remain here illegally, while some have obtained various paths to becoming a legal resident or visitor.
While short, this book did contain quite a breadth of experiences. Half the book is devoted to immigrants who have come from South America and Mexico. The other half is devoted to those who came from various other parts of the world including Korea, Samoa, and Ghana. Each story is told from the perspective of the child who lived the long travel and highly stressful situation of being in the United States in a "shadow" population.
It was sad that the author felt the images needed to be completely removed from the book. I understand it was done to protect the contributors due to the current political situation; however, I think blurring of faces would have served the same purposes and still provided a more tangible relation point, especially for younger readers.
This book, while a decent read, is probably more suited as a group read for further discussion. Post-narrative provides a great deal of resources and insight into when various immigration laws were passed and what the impact was to certain populations. I found this very helpful in reading as admittedly, I did not have a great understanding of immigration policy prior to current state.
This book does a reasonable job of staying away from politics and tries to keep the narrative fact driven. I think it is a good group discussion read for middle school readers and above. Younger readers will find it difficult to connect with the characters and is likely beyond the scope of comprehension.
Review of an Advance Reading Copy
Content Analysis:
Profanity/Language: 9 religious exclamations; 2 mild obscenities; 3 scatological words.
Violence/Gore: 4 recollections with minimal detail of familial deaths due to violence; recall of being shot (minimal detail); recall of being punched; dead bodies found in dessert; two verbal threats; scrapes and scratches; girl is hit by uncle; recall of grandmother whipping boy; boy eggs car; mom whips boy with belt.
Sex and Nudity: 2-page discussion of boy coming out as gay.
Mature Subject Matter:
Socioeconomic conflict; separation; abandonment; divorce; infidelity; child abuse; human trafficking; death of family members; fraud; stealing; ethics.
Alcohol / Drug Use:
Refences to other adults and teens using and selling marijuana.
Reviewed By Beckie