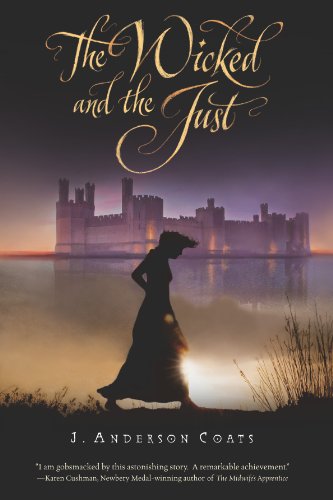 Publisher's Note:
Cecily's father has ruined her life. He's moving them to occupied Wales, where the king needs good strong Englishmen to keep down the vicious Welshmen. At least Cecily will finally be the lady of the house.

Gwenhwyfar knows all about that house. Once she dreamed of being the lady there herself, until the English destroyed the lives of everyone she knows. Now she must wait hand and foot on this bratty English girl.

While Cecily struggles to find her place amongst the snobby English landowners, Gwenhwyfar struggles just to survive. And outside the city walls, tensions are rising ever higher—until finally they must reach the breaking point.
This book was sent to Compass Book Ratings for review by Houghton Mifflin Harcourt
The Wicked and the Just
by J. Anderson Coats
Overall Review:
"Vengence," Gruffydd says in a low, dangerous voice, "is not justice."
The Wicked and The Just by J. Anderson Coats belongs on the shelf next to Catherine, Called Birdy by Karen Cushman. The first few pages remind the reader of Cushman's book, but Coats soon distinguishes her story with her narrative style, characters, and their relationships. The book alternates voice between girls of similar ages--one Welsh and one English—often employing archaic , Medieval language, which was an asset rather than a barrier. The majority of the novel is from the viewpoint of Cecily, a transplanted English girl. The characters are fabulous because of their texture—no cardboard, cookie-cutter heroines here. Cecily is capable of the most horrid actions and her pride is infuriating, but she is alternately capable of deep feelings of loneliness, longing, and remorse. (Admit it, the richest characters are the ones you both love and hate. Case in point: Scarlet O'Hara.) Coats also bravely paints an honest Gwinny, a Welsh girl who, perhaps justly, has bitterness in her soul. Add these complex characters to an interesting period of history with a satisfactory, not pat ending, and you have one of the better books I have read in a while. As a debut novel, Coats sets the bar high for future work. The conquered and the conqueror….the bitter and the brave…The Wicked and the Just is worthy of your time.
(This review was of an ARC.)
Content Analysis:
Profanity/Language: 34 religious exclamations; 14 mild obscenities; 1 religious profanity; 13 derogatory names; 1 scatological word.
(Terms of supplication and reference to location not included in tally.)
Violence/Gore: A character thinks violent thoughts towards another character; characters ambush other characters and throw rotten vegetables; a characters is badly beaten and tongue cut out (a couple of sentences of brief description); a character is cartwhipped with brief description of injuries; some characters are hanged; in an extended scene a town is pillaged (~ 5 pages) in which many are killed, a pet dog is slain, some characters are hung, limbs and blood are seen in the gutter; characters come upon corpses hung from trees; report of death by illness and previous acts of war.
Sex/Nudity: A character kisses another character (2 separate occasions); implied sexual activity, no details (2 separate instances); a character marks another characters breasts with chalk to humiliate her; a soldier fondles/gropes a character against her consent; another character gropes another character against her consent; a character attacks another character and gropes her until she escapes.
Mature Subject Matter:
Social conflict, war, discrimination and persecution of ethnic groups and classes, death of family members, ethics, serious illness.
Alcohol / Drug Use:
Characters of all ages often drink wine, ale, and beer. One character frequently goes out and becomes drunk.
Reviewed By Cindy