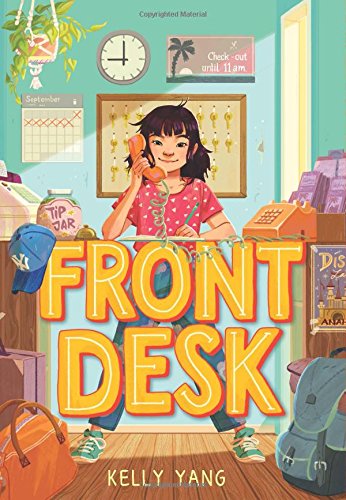 Publisher's Note:
Mia Tang has a lot of secrets.

Number 1: She lives in a motel, not a big house. Every day, while her immigrant parents clean the rooms, ten-year-old Mia manages the front desk of the Calivista Motel and tends to its guests.

Number 2: Her parents hide immigrants. And if the mean motel owner, Mr. Yao, finds out they've been letting them stay in the empty rooms for free, the Tangs will be doomed.

Number 3: She wants to be a writer. But how can she when her mom thinks she should stick to math because English is not her first language?

It will take all of Mia's courage, kindness, and hard work to get through this year. Will she be able to hold on to her job, help the immigrants and guests, escape Mr. Yao, and go for her dreams?
This book was sent to Compass Book Ratings for review by Arthur A. Levine (A Scholastic Imprint)
Front Desk
by Kelly Yang
Overall Review:
Front Desk is a delightful and poignant look into the world of an immigrant child and the unique challenges faced when first coming to America.
Mia is only a fifth grader, but she shoulders great responsibilities. Her parents manage a motel for a not-so-ethical owner, and Mia helps wherever she can. This story is told through her eyes. The eyes of a young child who came to America for a better life but struggles to define what better really means. Along the way she learns lessons that native-born Americans never learn and meets friends who will define the rest of her life.
You may cry at times in this book. Don't worry, I did too. The book is well-written and flows seamlessly. Page after page flies by without you realizing just how quickly you are reading the book. The characters are flawless in their believability and the cast is just the right size to have a well-rounded story, but not be confusing.
This book is a great standalone read but would also make a spectacular group read for discussion. Topics surrounding immigration, naturalization and assimilation are all to be found. While simple enough for younger children to understand and be a world opener, Front Desk is also written in a manner that older readers will enjoy and find conversational. Based on real life events, the book is a wonderful testament to the American dream.
Content Analysis:
Profanity/Language: 13 religious exclamations; 4 mild obscenities; 1 religious profanity; 1 derogatory name.
Violence/Gore: Grease burns on arms; bloody injury to finger; boy twists another's arm; man bruised from beating; man picks girl up by front of shirt and threatens; bloody head wound as result of robbery; man throws rock at another's head; two verbal threats; kick to boy's leg.
Sex and Nudity: Kiss between adults.
Mature Subject Matter:
Homelessness, immigration, poverty, racial and socioeconomic conflict, crime, robbery, ethics, predatory lending.
Alcohol / Drug Use:
Drunk man wanders into motel.
Reviewed By Beckie