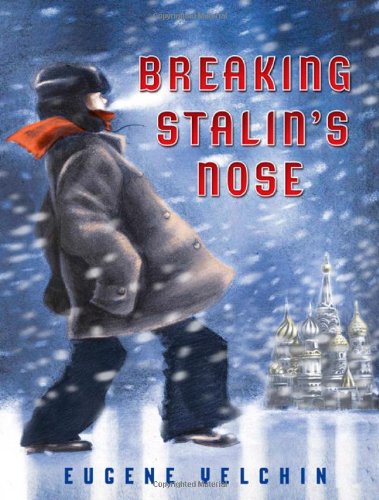 Publisher's Note:
Sasha Zaichik has known the laws of the Soviet Young Pioneers since the age of six:
The Young Pioneer is devoted to Comrade Stalin, the Communist Party, and Communism.
A Young Pioneer is a reliable comrade and always acts according to conscience.
A Young Pioneer has a right to criticize shortcomings.
But now that it is finally time to join the Young Pioneers, the day Sasha has awaited for so long, everything seems to go awry. He breaks a classmate's glasses with a snowball. He accidentally damages a bust of Stalin in the school hallway. And worst of all, his father, the best Communist he knows, was arrested just last night.
This moving story of a ten-year-old boy's world shattering is masterful in its simplicity, powerful in its message, and heartbreaking in its plausibility.
Breaking Stalin's Nose
by Eugene Yelchin
Overall Review:
Breaking Stalin's Nose is a brief story, simply told, but still absolutely chilling. Through the eyes of ten-year-old Sasha Zaichik, we see the senseless brutality of the early days of the communist Soviet Union. Yelchin's writing is clear and readable; although the book is intended for children, many of the nuances of the story will probably be better understood and appreciated by adults. Because the story was short and simple, there were times where it felt it lacked development, but overall it was a haunting portrayal of communist Russia—and one I won't be forgetting anytime soon.
Content Analysis:
Profanity/Language:
***
Violence/Gore: Policemen chase a young boy briefly. A group of boys engage in a snowball fight which turns rough and ends in one boy throwing a snowball into another boy's face and breaking the second boy's glasses (his cheek is cut by the glass). A young boy attacks an elementary school teacher and they tussle.
Sex/Nudity:
***
Mature Subject Matter:
Communism, verbal abuse from adults to children, unfair arrests, imprisonent (including one scene in which it is implied that a child is taken to prison).
Alcohol / Drug Use:
***

Reviewed By CindyB