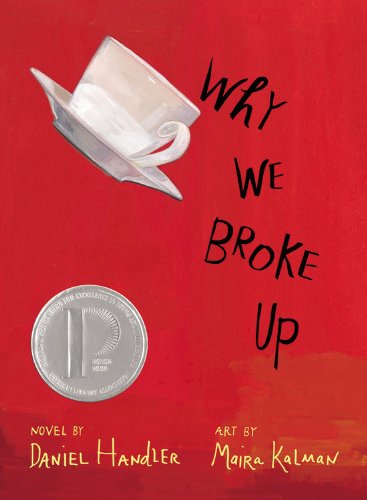 Publisher's Note:
I'm telling you why we broke up, Ed. I'm writing it in this letter, the whole truth of why it happened.

Min Green and Ed Slaterton are breaking up, so Min is writing Ed a letter and giving him a box. Inside the box is why they broke up. Two bottle caps, a movie ticket, a folded note, a box of matches, a protractor, books, a toy truck, a pair of ugly earrings, a comb from a motel room, and every other item collected over the course of a giddy, intimate, heartbreaking relationship. Item after item is illustrated and accounted for, and then the box, like a girlfriend, will be dumped.
Why We Broke Up
by Daniel Handler
Overall Review:
Why We Broke Up by Daniel Handler is a 2012 Michael L. Prinz Honor Book. Author Daniel Handler is probably best known under his pen name, Lemony Snicket, the author of A Series of Unfortunate Events. Why We Broke Up has a cute concept and is unique in a couple of ways. First, it is a young adult book, but it has artwork or illustrations sprinkled throughout the book. (Suggestion: Do not flip through illustrations as some may inadvertently give away plot points.) Second, it sometimes disregards grammar conventions in an attempt to create the character's voice. Stepping outside the box can often create spectacular results. This is not one of those times. Long sentences, run-on sentences, fragments, choppy sentences, eternal paragraphs, and missing dialogue identification contributed to Why We Broke Up being a chore to read. I confess that at times I inadvertently caught myself skimming or checking to see how many more pages until the book ended (never a good sign). Furthermore, while the protagonist Min was likable, her tendencies to monologue on obscure, old films did not draw me closer to her character, but rather further alienated me from a predictable storyline with an anti-climatic conclusion. A clever premise could not overcome the book's other deficiencies and the book would have benefited from a firm, editorial hand. The book may cover a few weeks of the character's life, but it was so much work to read that it felt more like years to this reader.
Content Analysis:
Profanity/Language: 20 religious exclamations; 7 mild obscenities; 25 religious profanities; 13 derogatory names; 15 scatological words; 12 anatomical terms; 1 offensive hand gesture; 29 F-word derivatives.
Violence/Gore: Report of a drunk father hitting a girl at a dance.
Sex/Nudity: References to characters making out; many instances of characters holding hands and/or kissing; reference to "after I lost my virginity"; jokes about sexual tension; rumor of a character being pregnant; joking about a condom; joking about virgins; joking about orgies and a female character sleeping with other girls; crude gestures are made while a character is dancing; reference to characters losing their virginity in a certain location; references to a certain location being a meeting place for gay men; reference to a dirty joke; characters dress in "slutty" and "hooker" costumes for Halloween; 4 page extended discussion regarding the loss of virginity (4 pages); another extended discussion regarding the loss of virginity (2.5 pages); joking about certain teachers being lesbians and "sleeping" with them; a character unbuttons shirt to reveal bra while dancing suggestively with another character; picture of a condom package; joking about getting laid; a certain character is repeatedly accused of being gay; sexual activity (heavy petting) of two teenage characters, some detail; sexual activity (heaving petting) of two teenage characters, some detail, involving nudity; nudity of a character; two teenagers engage in sex with some talk, brief detail, and some imagery.
Mature Subject Matter:
Relationships, Teenage Sex, Losing Virginity, Underage Drinking and Drugs.
Alcohol / Drug Use:
Abundant teenage drinking and partying. Teenagers consumed ale, wine, beer, etc. at several different parties, some of which were "supervised" by adults. Reference to Halloween "drunken debauchery". A character smells pot at a party. Characters take drugs at another party.
Reviewed By Cindy