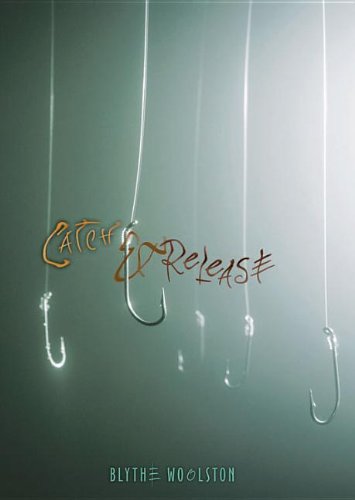 Publisher's Note:
I should have died quick. But I didn't. I'm a miracle of modern medicine, only the medicine doesn't get much credit, I notice. People say I'm lucky, or I'm blessed, and then they turn away.

I'm not the only miracle. There's Odd too.

Polly Furnas had The Plan for the future. Get married to Bridger Morgan, for one. College, career, babies. Etc. All the important choices were made.

It was all happily-ever-after as a diamond-ring commercial.

But The Plan did not include a lethal drug-resistant infection. It did not include 'some more reconstruction and scar revision in the future.' And it certainly did not include Odd Estes, a trip to Portland in an ancient Cadillac to 'tear Bridger a new one,' fly fishing, marshmallows, Crisco, or a loaded gun.
This book was sent to Compass Book Ratings for review by Lerner Publishing Group
Catch and Release
by Blythe Woolston
Overall Review:
Catch and Release is definitely unique in its subject matter. One of the main characters in this novel is named Odd, which is an apt description of this book. There were many times I felt very lost as I read and wondered where these two characters were going. After considerable thought, however, I came the realization that that was precisely what the author wanted.
Polly is lost. She's been through an horrific experience. One of two survivors of a MRSA outbreak, now she has to learn how to deal with life with a deformed face. Everything is turned upside down and it just seems easier to live inside her house and not show her face anywhere. Odd was her fellow survivor of MRSA and they start an unlikely friendship. As Polly is pining away at home, Odd shows up in a seemingly random fashion and what ensues is a strained roadtrip between two people who couldn't be more different. As they travel, they begin to learn who they are, to become comfortable with the world around them, and see that they too, perhaps, can come to learn to live with their deformities and adapt and move on.
There are metaphors for life using monsters, fish, and nature as they fish, camp, and visit historical points scenic byways in the Western US. The narration feels strained at times as we follow the stream of consciousness of one character learning to find herself. Between the depression and self-loathing, Polly begins to reflect on life itself, to see the beauty in differences, and to realize that adaptation, life changes and learning to cope are all part of everyday life. The ending is by no means full of happiness and closure, but it does show that we can find the beginning of a path to reinventing ourselves if we look hard enough.
Content Analysis:
Profanity/Language: 17 Religious exclamations; 19 mild obscenities; 3 religious profanities; 14 derogatory names; 41 scatological terms; 44 anatomical terms; 36 F-words.
Violence/Gore: Character watches various monster movies and describes mutilation of actors; a few discussions on which animals would make the best TV monsters and why (describing characteristics such as being able to stalk/kill quickly and stealthily); a character holds another character at gunpoint; two characters have a target practice and pretend their targets are real people; a radio announcement talks about the number of people who have died during a certain occurrence; a character describes people's bones being sawed through; a character talks about his mother who committed suicide; a character beats another character with his robot leg; a character is attacked by a snake; a few indepth discussions about animal diseases that kill people; some very detailed and somewhat gory descriptions of the effects--and after effects--of MRSA.
Sex/Nudity: A character thinks back on kissing someone; two characters dance and one mentions feeling very tingly and achy inside; a character is afraid her mom will find her hidden condoms; there are many jokes and innuendos which involve bees and flowers, crude and offensive names for male genetalia, rapers and perverts, and specific namings of sexual perversions both in humans and animals; a character wants to watch porn in a hotel; a character notes that another character is 'peeking out' after urinating, and a 1 page excerpt of partial nudity and crude jokes follows; 2 instances of characters have a crude discussion with graphic language about having sex; a few discussions about invitro fertilization; a character watches a fish spawning video and gives many details; a character thinks another character's mom is hot and goes into detail.
Other content to note: A character enjoys urinating anywhere except a bathroom.
Mature Subject Matter:
Underage Drinking/drug use, stealing, suicide, serious illness, disfigurement, MRSA, Alzheimer's, depression.
Alcohol / Drug Use:
Teens drink beer, vodka, and whiskey almost constantly. Gin, tequila and mojitos are also mentioned. Two characters smoke marajuana (it is a prescription, but is abused).
Reviewed By Emily