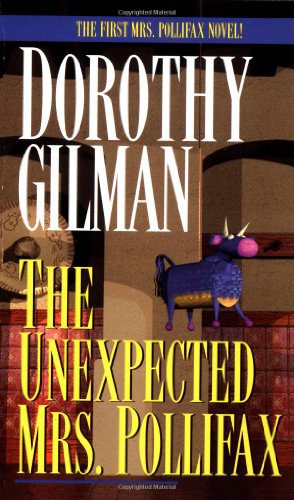 Publisher's Note:
Mrs. Virgil (Emily) Pollifax of New Brunswick, New Jersey, was a widow with grown children. She was tired of attending her Garden Club meetings. She wanted to do something good for her country. So, naturally, she became a CIA agent. This time, the assignment sounds as tasty as a taco. A quick trip to Mexico City is on her agenda. Unfortunately, something goes wrong, and our dear Mrs. Pollifax finds herself embroilied in quite a hot Cold War--and her country's enemies find themsleves entangled with one unbelievably feisty lady.
The Unexpected Mrs. Pollifax
by Dorothy Gilman
Overall Review:
Mrs. Pollifax is one of those characters that jumps off the page in living color and allows the reader a refreshing escape from the mundane spy novel.
The Unexpected Mrs. Pollifax is definitely an apt title for this first book in the Mrs. Pollifax series. Dorothy Gilman wrote thirteen other books that feature this grandmother turned CIA agent, and I have just about read them all. I pick up a Mrs. Pollifax novel when I am in the mood for a light, fun read, but I rarely finish the book without taking away some nuggets of wisdom offered by the heroine. I have always thought of Mrs. Pollifax as a very clean read and was surprised to tally up enough language to give this book a seven in that category, but one of the characters does let his mouth run away with him when the pressure is on. And, believe me, the pressure is definitely on during the last part of this book. It is suspenseful and surprising to the last. I thoroughly enjoyed re-reading it.
Content Analysis:
Profanity/Language: 20 religious exclamations; 25 mild obscenities; 1 derogatory name.
Violence/Gore: Two non-life threatening injuries with blood mentioned; four instances of mild violence including a beating and a shooting in the arm; four non-detailed scenes of violent death, all shootings.
Sex/Nudity: A character is refered to as a "playboy;" one reference to "women he would never make love to again;" a mistress is mentioned in passing.
Mature Subject Matter:
War; Death; Torture; Suicide contemplated.
Alcohol / Drug Use:
Adults drink at a party; two characters smoke cigarettes.
Reviewed By Ambra