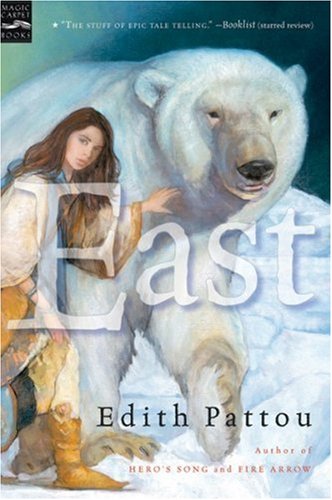 Publisher's Note:
Rose has always felt out of place in her family. So when an enormous white bear mysteriously shows up and asks her to come away with him, she readily agrees. The bear takes Rose to a distant castle, where each night she is confronted with a mystery. In solving that mystery, she finds love, discovers her purpose, and realizes her travels have only just begun.
East
by Edith Pattou
Overall Review:
You don't need to be familiar with the Norse fairy tale, "East of the Sun, West of the Moon" to fall in love with East. You'll recognize elements of "Beauty and the Beast" and the myth of Cupid and Psyche in this enthralling retelling. Edith Pattou does a fantastic job of weaving a beautiful story through the voices of five unique characters, each of whom shares his or her part in the adventure. Rose is a strong-willed, fearless, empowered young woman who knows what she wants and isn't afraid to go out and find it. She is also kind, generous, and talented, though she realizes her shortcomings and relies on friends and family to help when she's in need. Rose's family is close and loving, and although their difficulties cause a strain, the strong fabric of their relationships cannot be torn. Mistakes are made and forgiven. Hardships are overcome together. Above all, this is the story of good, caring people and the enduring power of love. East is one of my all-time favorites--a definite re-read.
Content Analysis:
Profanity/Language: None.
Violence/Gore: A ship is destroyed in a storm at sea--one human character is drowned, another seriously injured; an animal is slaughtered for food; a human character is mildly injured by a bear; a human slave is killed by a troll; a troll kills another troll by magic; extermination of slaves by exposure to the elements when they have reached their limit of usefulness; kidnapping.
Sex/Nudity: A male character sleeps in the same bed with a female character with no physical contact, implied sexual interaction, or conversation; a male character enters the room when a female character is dressing.
Mature Subject Matter:
Slavery; death of a family member (mentioned only); superstitious beliefs; extreme poverty; starvation and illness; secret-keeping; discussion of murder.
Alcohol / Drug Use:
One character is an alcoholic; some human characters are drugged into submission to be treated as slaves; one discussion of how alcohol use distorts perception.
Reviewed By Leslie