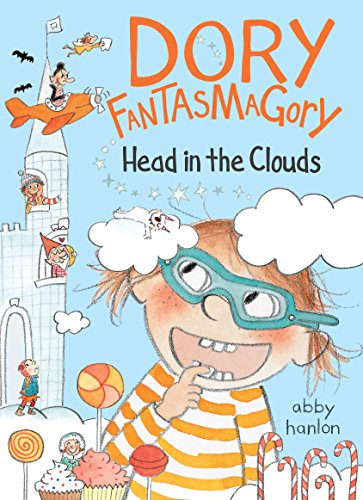 Publisher's Note:
Dory has her first loose tooth, and, with her usual over-the-top excitement, she cannot stop talking about the tooth fairy. Naturally, this drives her brother and sister crazy. But it also sparks a serious jealous streak in her nemesis, Mrs. Gobble Cracker, who wants all of Dory's attention to herself.

But Mrs. Gobble Gracker has decided to steal the tooth fairy's job, and flying around in a tutu from Rosabelle, she heads for Dory's house. It's time for Dory to come up with a serious plan to get the tooth fairy her job back.

The fourth installment in the wildly popular Dory Fantasmagory series delivers laughs on every page as Dory teams up with her pals, real and imaginary, to save the tooth fairy for all the world's children--and get her dollar!
This book was sent to Compass Book Ratings for review by Dial Books for Young Readers
Dory Fantasmagory: Head in the Clouds
by Abby Hanlon
Overall Review:
If you've never had the opportunity to read a Dory Fantasmagory book, you must. Having read or listened to a few others from this series with my children, I was really looking forward to checking out a new one. Author Abby Hanlon is spot-on with the characters she creates. Dory is an absolute crack-up with an outrageous imagination. The dynamics within Dory's family are authentic and comical, but be prepared for some sibling spats (thus the authenticity). All the characters are perfect, from her friends to the evil villain, Mrs. Gobble Gracker, as well as her Fairy Godmother, Mr. Nuggy (who just happens to be available to call from any banana). Every situation Dory finds herself in usually ends up with something ridiculous or funny happening to her. This might be Abby Hanlon's best Dory book yet. Dory Fantasmagory: Head in the Clouds is a perfect book for a reluctant reader or anyone who enjoys a little literary comic relief.
Review of an Advance Reader Copy
Content Analysis:
Profanity/Language: None
Violence/Gore: A few (5) brief incidents including character tells another to be careful that an imaginary person doesn't eat them; character says, "cross my heart, hope to die, stick a needle in my eye"; verbal threats from a fantasy character; verbal threat to pull a tooth; character falls and kicks a tooth loose; imaginary character flies and crashes.
Sex/Nudity: None
Mature Subject Matter:
Lying, divorce mentioned.
Alcohol / Drug Use:
None
Reviewed By Jenny