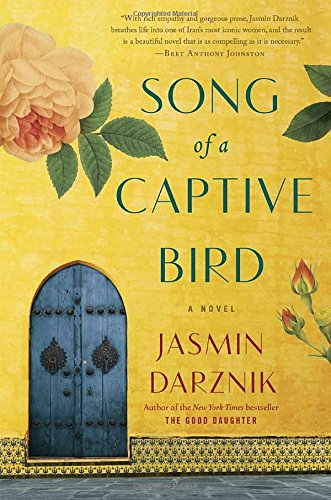 Publisher's Note:
A spellbinding debut novel about the trailblazing Iranian poet Forugh Farrokhzad, who defied society's expectations to find her voice and her destiny

"Remember the flight, for the bird is mortal."

All through her childhood in Tehran, Forugh Farrokhzad is told that Persian daughters should be quiet and modest. She is taught only to obey, but she always finds ways to rebel—gossiping with her sister among the fragrant roses of her mother's walled garden, venturing to the forbidden rooftop to roughhouse with her three brothers, writing poems to impress her strict, disapproving father, and sneaking out to flirt with a teenage paramour over café glacé. During the summer of 1950, Forugh's passion for poetry takes flight—and tradition seeks to clip her wings.

Forced into a suffocating marriage, Forugh runs away and falls into an affair that fuels her desire to write and to achieve freedom and independence. Forugh's poems are considered both scandalous and brilliant; she is heralded by some as a national treasure, vilified by others as a demon influenced by the West. She perseveres, finding love with a notorious filmmaker and living by her own rules—at enormous cost. But the power of her writing only grows stronger amid the upheaval of the Iranian revolution.

Inspired by Forugh Farrokhzad's verse, letters, films, and interviews—and including original translations of her poems—this haunting novel uses the lens of fiction to capture the tenacity, spirit, and conflicting desires of a brave woman who represents the birth of feminism in Iran—and who continues to inspire generations of women around the world.
This book was sent to Compass Book Ratings for review by Ballantine Books
Song of a Captive Bird
by Jasmin Darznik
Overall Review:
Song of a Captive Bird is a fascinating novel. Written by New York Times bestselling author Jasmin Darznik, this mesmerizing work is inspired by the life of Iranian poet Forugh Farrokhzad. Set in the mid-twentieth century, Darznik breathes life into tumultous Iran, capturing not only the riots and political uprisings but the exotic sights, tastes and smells of the Middle Eastern capital. Darznik is a talented writer, mixing her knowledge and research about Forugh into a first-person narrative fraught with poetic phrases and figurative speech. Darznik portrays Forugh as a strong, rebellious woman and a risk-taker, never content with her lot in life. Forugh's poems are sprinkled throughout each chapter while an informative author's note at the end of the novel provides more detail about her life. Song of a Captive Bird is recommended historical fiction!
Review of an Advance Reader Copy
Content Analysis:
Profanity/Language: 4 religious exclamations, 2 mild obscenities, 3 derogatory names.
Violence/Gore: A few implied occurrences of violence including bruised faces and black eyes; numerous secondhand reports of violence include a mother striking a child, a father kicking a child, domestic and physical abuse and a political assassination; several brief scenes of violence include car crashes, child abuse and forms of electroshock therapy; a few non-detailed scenes of violent death include a hanging and a drowning; a few brief scenes of blood and gore include a sacrificial lamb and police brutality during a protest.
Sex/Nudity: A few incidents of kissing; a few non-sexual depictions of nudity including a gynecological exam and preparing for a wedding; several sexual references; several reported incidents of sexual activity; a brief mention of pornography; a brief scene of nudity with sexual innuendo; a few pages discuss a 'proof of blood' custom where a woman must provide blood to prove she is a virgin; a brief incident of sexual activity between adults without explicit detail.
Mature Subject Matter:
Domestic abuse, murder, extramarital affairs, leprosy, mental illness and mental hospitals, lobotomy, electroshock therapy, rumors/implications when two women live together, death of loved ones, riots and political unrest, police brutality.
Alcohol / Drug Use:
Patients are drugged in a mental hospital; characters smoke and drink alcohol.
Reviewed By Rachel