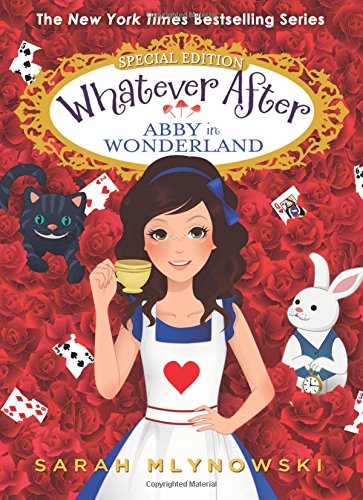 Publisher's Note:
Down the rabbit hole . . .

I'm spending the day with my best friends, Frankie and Robin, and -- UGH -- snobby Penny. I'm not expecting anything magical to happen, until Frankie falls into a mysterious hole behind Penny's house . . . and we all wind up in the story of Alice's Adventures in Wonderland!

I've visited fairy tales before. But in Wonderland, everything is topsy-turvy. There are potions that make you grow, cakes that make you shrink, bossy caterpillars, and a horrible Queen of Hearts who wants to put us on trial.

Now we have to:
- Solve a riddle from the Cheshire cat
- Attend a wacky tea party with the Mad Hatter
- Become BFFs with Alice
- And find Frankie

. . . Or we'll be stuck in Wonderland for good!

This special edition is extra-long, extra-enchanting, and comes with puzzles, games, and a Q&A with the author!
This book was sent to Compass Book Ratings for review by Scholastic Press (A Scholastic Imprint)
Abby in Wonderland (Whatever After: Special Edition)
by Sarah Mlynowski
Overall Review:
Abby in Wonderland, the 11th installment of the Whatever After Series by author Sarah Mlyanowski is an exciting addition to her fractured fairy tale retellings. Granted, Alice in Wonderland isn't exactly a fairy tale, but with fanciful characters and imaginative settings, it might as well be, and Abby and her friends literally stumble into this story. Normally, Abby enters the stories with her brother; however, this time it's with three other girls: two who are her BFFs and one she can barely tolerate. This leads to the underlying lesson that Abby has to learn before she can get out of the story. As they go around trying to find what they are supposed to 'swallow' per the advice of the Cheshire cat, Abby learns she also has to swallow her pride and learn to get along with Penny and maybe see her perspective a little. This little lesson gives this novel a little more depth than your typical fairy tale retelling geared to this young age group.
Abby in Wonderland is certainly capable of standing alone. I was able to follow the story without having read any of the other novels in the series. That being said, this would be a wonderful series for any young precocious reader jumping into chapter books, as the story lines are familiar.
Content Analysis:
Profanity/Language: None
Violence/Gore: Slightly frightening scene where characters fall into a mysterious hole; characters are told that the queen likes to behead people or that they will be beheaded for doing something (2); characters have rocks thrown at them by rabbits; characters are pecked at by birds; characters are taken prisoner by playing cards.
Sex/Nudity: None
Mature Subject Matter:
Death of family member.
Alcohol / Drug Use:
Caterpillar smokes a pipe.
Reviewed By Sally