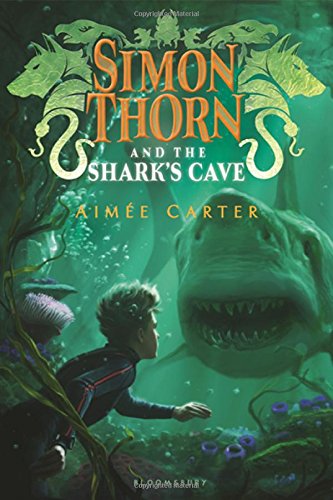 Publisher's Note:
Simon Thorn has only recently discovered that he's an Animalgam, a member of a secret race of people who can shift into animals, and found a home where he truly belongs. But not everything is as good as it seems. Simon's evil grandfather, Orion, is bent on taking over the entire animal kingdom, and to do so, he'll need to gather the pieces of a terrible weapon--one that could shred the very foundations of the Animalgams' world. . . unless Simon can gather the pieces first.
So when Simon's dolphin Animalgam friend Jam is summoned home to the underwater kingdom's headquarters, Avalon, Simon sees it as an opportunity to secure another piece. But as soon as he and his friends arrive in Avalon, their search is complicated by Jam's strict family--and a potential traitor. Can they locate the piece before it falls into Orion's hands and puts the entire underwater kingdom at risk?
With plenty of action and adventure and characters full of heart, this story is perfect for fans of Rick Riordan and Brandon Mull.
This book was sent to Compass Book Ratings for review by Bloomsbury Children's Books
Simon Thorn and the Shark's Cave
by Aimee Carter
Overall Review:
This third installment of the Simon Thorn Series, Simon Thorn and the Shark's Cave takes the reader to the third of five kingdoms, on a quest to find yet another piece to an important puzzle. Author Aimee Carter delivers yet another action-packed novel in this adventure fantasy series, with a unique setting, that will leave you hanging and wanting for more. As Simon takes on the underwater kingdom in search of the piece, he is thrown into an element that he is not very comfortable with. This helps him learn to rely on his friends more as he navigates something new and somewhat uncomfortable. As a reader, I felt this novel did a better job than the previous two in showing how Simon's friends have grown and developed, all the while recognizing that they need to rely on each other in order to succeed. It's really with their help that Simon is able to accomplish this mission he has set out on.
Simon Thorn and the Shark's Cave shows welcome growth and development in characters and plot alike. As a third novel in the series, this one seemed a little different as it showed more of the human side of these characters that spend so much time as animals. It was a nice change of pace and added more to the series to see these human characteristics, emotions, and relationships develop. With this comes the realization for Simon, and the readers in a little way, that he doesn't have to face this all alone. He has friends he can turn to and rely on and in turn he can support them. As the series moves forward, I hope that we get to see more of how the human sides of these characters develop as they attempt to save the Animalgam world as well as the human world.
As stated, Simon Thorn and the Shark's Cave is the third in the series and it is worth noting that to understand the story the reader really should start at the beginning.
Simon Thorn and the Wolf's Den
Simon Thorn and the Viper's Pit
Review of a Promotional Copy received from the publisher
Content Analysis:
Profanity/Language: None
Violence/Gore: Character says he'd kill someone for doing something; character recalls having someone push him off the roof of a skyscraper to force him to change into an animal in order to save himself; character recalls seeing his uncle killed; character witnesses his dad (in dolphin form) being attacked by sharks with mention of blood and injuries sustained from the attack; character restrained and held captive with a chain around her neck; character talks about wanting to eliminate someone for being a spy; character grabbed by the back of his neck and dragged away; character pushes another person down in order to escape; character grabbed, restrained and threatened with death while in animal form by someone in human form; person says he will murder someone if character doesn't do what he wants; person pulls out a knife and threatens to use it on someone; a person yanks on a chain around someone's neck briefly choking them; person bit by a poisonous spider and is knocked out; character tells how she was threatened and blackmailed with death if she didn't do what was asked of her; character mentions how people are plotting to murder her mom.
Sex/Nudity: Boy and girl hug; boy gives girl a comforting hug.
Mature Subject Matter:
Death.
Alcohol / Drug Use:
None
Reviewed By Sally