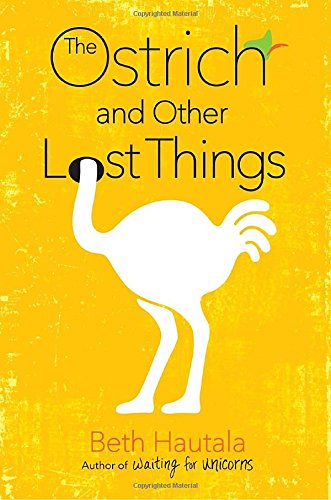 Publisher's Note:
In this beautifully written novel, the bonds and challenges of caring for a sibling with autism are bravely explored, along with the pain and power that comes from self-discovery.

Eleven-year-old Olivia Grant has a knack for finding lost things. She can find lost rings, pets, and even her elderly neighbor's misplaced glasses. There's only one thing Olivia has never been able to find--her brother Jacob's toy ostrich. It wasn't until the day Jacob lost his ostrich that Olivia noticed how different he was: Jacob is autistic, and though she's his little sister, Olivia often feels like the older of the pair, his caretaker. And with her parents so heavily focused on maintaining status quo for Jacob, it's Olivia who has stagnated in his shadow--unable to explore new opportunities, or to be her own person. In fact, apart from being Jacob's sister, Olivia's not really sure who she is.

So when summer break begins, and the local community theater announces auditions for an all children's production of her favorite show, Peter Pan, Olivia jumps at the chance to claim something for herself. But what begins as a promising opportunity and a wonderful escape quickly becomes pure chaos. The visiting zoo with an odd assortment of animals--including an ostrich that causes even more trouble than Jacob's missing toy--only make matters worse, as Olivia's summer is shaping up to be just as consumed by Jacob's needs as the rest of her life has been.

In time, and with the help of some unlikely alliances, Olivia must learn what it means to be separate from her brother and still love him, how to love herself in spite of her own flaws, and that not all lost things are meant to be found.
This book was sent to Compass Book Ratings for review by Philomel
The Ostrich and Other Lost Things
by Beth Hautala
Overall Review:
Olivia has a secret power - finding things. However, she hasn't been able to find her brother's ostrich and she really needs to. She feels it is the key to helping her family.
The Ostrich and Other Lost Things is an accurate portrayal of life for a child who has a sibling with a disability. Hautala did a wonderful job capturing the range of emotions and feelings a sibling feels--from guilt and anger to sympathy and love as well as lack of control. The situations Olivia gets into are deeply felt and complicated. Through trying to handle it all by herself, she learns how much she needs family. This story is heart-rending as you want to be able to help Olivia through the pages.
I loved that this book covered a topic that is not frequently covered. It is applicable to those who find themselves in similar situations as well as those on the outside. The relationships are strong and authentic. So many life lessons are taught in this book through Olivia's experiences about finding one's identity, independence, friendships, and what it means to loose something.
Review of an Advanced Uncorrected Galley
Content Analysis:
Profanity/Language: None
Violence/Gore: Object thrown against wall and shattered; person bangs head against wall; blood from glass stuck in foot; imagined animal thrown against wall; minor hits adult in face; minor hits self in face.
Sex/Nudity: Hand holding; walking arm in arm; hug.
Mature Subject Matter:
Violence from family members, disabilities.
Alcohol / Drug Use:
None
Reviewed By Lacey