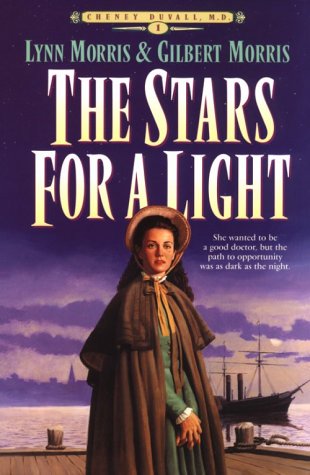 Publisher's Note:
Fresh from medical school in the 1860s—and a woman at that—the young Cheney Duvall struggles to find a position as a doctor. She has almost given up hope when Asa Mercer turns up requesting her services as chaperone and physician for two hundred brides-to-be on a sea voyage from New York to the Washington Territory. Cheney jumps at the opportunity. Accompanied by an unlikely nurse, wayworn soldier Shiloh Irons, she finds herself facing an arduous voyage and dangers for which her medical training could not possibly have prepared her.
The Stars for a Light (Cheney Duvall, M. D., Book 1)
by Lynn Morris
Overall Review:
Chaney finds herself in a predicament. In a time when most women of her age and status were wives, mothers, and eye candy, she is not only educated, she is also a doctor. Eager to begin her career helping others, Chaney finds her gender is a roadblock.
The author, Lynn Morris, has a co-author with this book, her already famous father and author Gilbert Morris. Together, they have done a great job fleshing out these characters. Delightfully human, they come to life as they interact and deal with a great many threats and challenges. Written as Christian historical fiction, the story is woven with God's love in a way that compliments it rather than becoming preachy.
If you love history, adventure, and good humor, this series might be for you. Finding herself in a reversal of roles, it's odd enough that Chaney is the doctor but her nurse is a man. Shiloh is a strong male character who compliments Chaney's strong female lead. A light romance runs through the story making Shiloh and Chaney an unlikely couple while they learn to work together in multiple settings.
Lynn Morris has written 20 books. This is the first of an eight-book series set in the 1860s. Easy to read and fast-paced, the story line kept me eager to read every page.
Content Analysis:
Profanity/Language: None
Violence/Gore: Woman is attacked by 2 men with intent to rape her, more mental harm than physical; man saves woman from men by beating up the 2 men who were attacking her, one is killed; woman fainted at the sight of a men who she thought was going to harm her; a young girl and man are found dead in an alley, no description; man roughly handles a young woman, pushes a glass at but bumps her face cutting her lip, tiny amount of blood; a woman started a fire and another woman's hands got burned, some description of burns; 2 men argue and almost fight; a fight is arranged between 2 men, blood, a little gory; 2 men fight, 1 punches a wall, another man shoots a wall with a gun; mention of a man's family previously dying in a house fire, not descriptive; explosive substance explodes hurting 2 men, some description of wounds; a highly contagious disease kills many people, minor descriptions of caring for them; man is premeditating murder; man grabs woman by the front of her dress, shakes her and drags her down a hall threatening to kill her; man is beating up another man, no permanent damage; character is found dead with a sharp instrument in his chest; character confesses to murder; character lets herself go overboard in a storm because she feels guilty for a crime.
Sex/Nudity: Woman strips and bathes, no details, non-sexual; implied that a woman was very familiar with men in a previous life; man looks longingly at a woman and makes a vague sexual comment (multiple times) and has grabbed her around the waist 2x trying to haul her off to a room; man & woman kiss and hug, not descriptive.
Mature Subject Matter:
Socioeconomic differences, historical gender roles, death of husband, suicide, "mail order" brides, gambling, arson.
Alcohol / Drug Use:
Two women drink alcohol a few times; men drink in a bar; man drinks alcohol and often gets drunk.
Reviewed By Beth