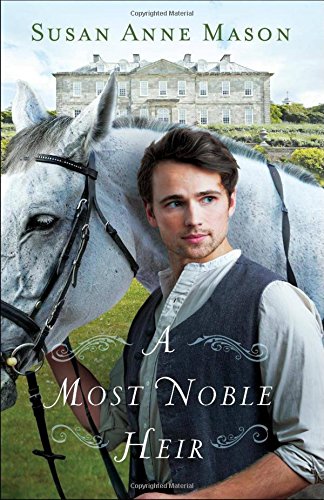 Publisher's Note:
When stable hand Nolan Price learns from his dying mother that he is actually the son of the Earl of Stainsby, his plans for a future with kitchen maid Hannah Burnham are shattered. Once he is officially acknowledged as the earl's heir, Nolan will be forbidden to marry beneath his station.

Unwilling to give up the girl he loves, he devises a plan to elope--believing that once their marriage is sanctioned by God, Lord Stainsby will be forced to accept their union. However, as Nolan struggles to learn the ways of the aristocracy, he finds himself caught between pleasing Hannah and living up to his father's demanding expectations.

At every turn, forces work to keep the couple apart, and a solution to remain together seems further and further away. With Nolan's new life pulling him irrevocably away from the woman he loves, it seems only a miracle will bring them back together.
This book was sent to Compass Book Ratings for review by Bethany House Publishers
A Most Noble Heir
by Susan Anne Mason
Overall Review:
A Most Noble Heir is one of those classic what-ifs in the historical fiction genre. Susan Anne Mason tackles social classes and specifically focuses on the wealthy privileged not mingling above their station. The idea is intriguing and as a fun personal note, Mason bases some of her characters on her own relatives. She freely admits to taking license with their story.
The two main characters Nolan and Hannah are reasonably likeable, but some aspects of the story just do not sit well. It seems as though Nolan really did not have the depth of affection he professed and because of this, parts of the story fell flat. Hannah's character was too timid to have pulled off all that she did.
The Earl of Stainsby is quite a rude and jerky person. Based on his past experiences, it feels as though he should have more sympathy and or empathy for Nolan. This part of the story just did not ring quite true.
Then in comes the real star of the book, Lady Iris. She steals attention from all of the other characters. Her unconventional words and behaviors are entertaining and fun. Once she enters the story the other characters sort of fade. As a reader, I found myself more concerned about Iris than any of the other characters.
This is a fairly easy read that has a potential for more depth. Certainly, much of what is written reflects common attitudes and thoughts of the time period. Sadness and heartbreak, love and devotion, anger and meanness all find a place in this tale.
Review of a Digital Advance Reading Copy
Content Analysis:
Profanity/Languae: None
Violence/Gore: Character wants to cause harm to another; a female is grabbed by a male intending to force her into kissing him; a woman strikes her head on a piece of furniture following a physical altercation, blood flows from the wound; a menacing character is shot and killed.
Sex/Nudity: Non-married and married characters kiss and hug; multiple mentions of illegitimate children; a man is said to have had "illicit dalliances;" a characters recalls allowing his passion to overtake him and it resulted in a pregnancy; a newly married person is nervous about the wedding night and sharing a bed with her husband; a few references to married people sharing beds and sexual intimacy is implied, but not described.
Mature Subject Matter:
Death of a parent and spouse, illegitimacy, murder, kidnapping.
Alcohol / Drug Use:
Adults sip wine, whiskey and brandy; an adult is in an inebriated stupor.
Reviewed By Susan