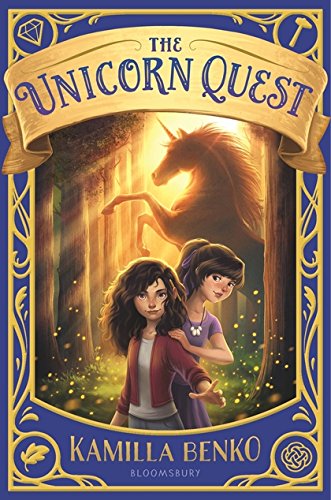 Publisher's Note:
An enchanting, exciting fantasy about a real-world girl searching for her sister in a land full of magic and strange creatures, blending the timeless feel of The Last Unicorn and Wildwood with Frozen's powerful themes of identity, enchantment, and sisterhood.
Claire Martinson still worries about her older sister Sophie, who battled a mysterious illness last year. But things are back to normal as they move into Windermere Manor . . . until the sisters climb a strange ladder in a fireplace and enter the magical land of Arden.
There, they find a world in turmoil. The four guilds of magic no longer trust each other, the beloved unicorns have disappeared, and terrible wraiths roam freely. Scared, the girls return home. But when Sophie vanishes in the night, it will take all of Claire's courage to climb back up the ladder, find her sister, and uncover the unicorns' greatest secret.
This book was sent to Compass Book Ratings for review by Bloomsbury Children's Books
The Unicorn Quest: The Whisper in the Stone
by Kamilla Benko
Overall Review:
The Unicorn Quest is the exciting first installment of a new adventure and fantasy series by author Kamilla Benko. Claire and her sister Sophie discover a whole new world by ascending a mysterious ladder in a fireplace. Arden is a world where magic is real, creatures-like wraiths exist, and four opposing factions are on the verge of war. To add to the turmoil, Sophie went up the staircase without Claire and is now missing. Claire, who always followed her older sister and relied on her protection and guiding hand when it came to adventures, now is on her own and needs to find her own courage in order to find her sister.
The Unicorn Quest is a novel of self-discovery, learning to be brave in the face of unsurmountable obstacles, and learning to trust others. In the real world Claire had a hard time with those things as her sister faced not only teenager-hood but also an unknown disease and her parents had just moved them to a strange new house. Claire felt anything but brave and sure of herself, but in Arden that is all about to change.
As the novel ends with an epilogue that leaves the fate of Arden hanging, it's exciting that the reader will have another chance to visit this well-crafted world of magic that is full of the unexpected.
Review is of an Advance Uncorrected Proof
Content Analysis:
Profanity/Language: None
Violence/Gore: Characters chased by a frightening creature; character tackled to the ground; character kicks someone in the nose in self-defense; character bound and taken hostage; story told of someone taking an arrow to keep it from killing an animal resulting in person's death; person mentions that her father was executed; characters trapped by a magical net; secondhand account of someone threatening to kill someone else if they don't get their way; person tied up and is about to be killed until someone intervenes; character told that they will be a human sacrifice; character has an arrow aimed and shot at her but another person jumps in the way and is therefore shot and injured; character chased by a frightening magical creature.
Sex/Nudity: None
Mature Subject Matter:
Death of family member, illness.
Alcohol / Drug Use:
None
Reviewed By Sally