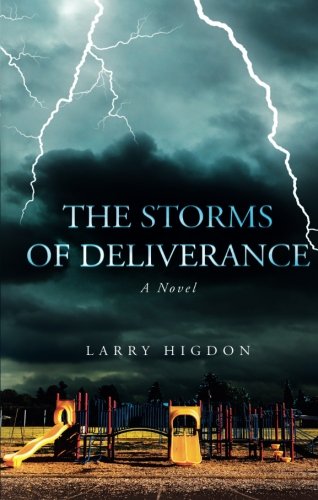 Publisher's Note:
He was fairly certain that he was in suburban Atlanta, at least to the extent that he could feel fairly certain about anything. The sun, barely high enough in the sky to reach over the downtown buildings in the distance and flood the highway with burning yellow light, was over his left shoulder. That signified that he was traveling northeast. This could be I-85 North. If so, he could take Indian Trail to Lawrenceville Highway. At that intersection, he should find the apartment complex where he had once shared an apartment with his best friend, Manny McBroom. If Manny was there, he would know what to do. Maybe
This book was sent to Compass Book Ratings for review by Tate Publishing
The Storms of Deliverance
by Larry Higdon
Overall Review:
At the beginning of The Storms of Deliverance we meet an injured pro baseball player who is chasing a pipe dream. He and his girlfriend move all over the country, drowning their sorrows in a bottle. Their trials seem nearly impossible to overcome but as the book progresses, things improve in some aspects and become more complicated in others. Many adult themes are touched on throughout the story as the characters have a lot to deal with. Author Larry Higdon, paints vivid characters and scenes with his sensory language, making you feel as if you've been transported into the book. You'll likely find yourself on an emotional rollercoaster as you experience the hardships with the characters. The story gets pretty intense toward the end so expect to speed through to reach the conclusion. The Storms of Deliverance will be enjoyed by those who like a sports-themed story but also those who can appreciate the hardships that come with growing up and choosing new dreams.
Content Analysis:
Profanity/Language: 7 religious exclamations; 19 mild obscenities; 2 derogatory names; 1 scatological word; 2 anatomical terms; 1 finger offensive hand gesture.
Violence/Gore: Many (21) brief incidents including character tells another that he won't beat the daylights out of him; verbal threats; character thinks he should die and wishes he could commit suicide; character thinks he might as well slit his wrists now; second-hand report of character driving drunk; reference to character overdosing on cocaine; reference to character receiving concussion; second-hand report of characters dying; references to war; reference to character having PTSD; second-hand report of father abusing child; character remembers bar fights; character has a dream of shooting a man; drunk man breaks television and slams someone into a shelf; character beats someone up over and over; child killed and another injured in a car accident. One extended incident of a tornado causing property damage and injuries.
Sex/Nudity: Several (12) brief incidents including married man flirts with waitress and a reference is made to him doing that frequently; kiss; reference to strippers; reference to a blow-up doll because a large breasted woman looked like one and she gets called a bimbo; character asks another if he's gay; character wonders if another will go to a strip club; innuendo; reference to character calling another a whore; implied sex; character has a Playboy calendar; reference to strippers; guys leave a strip club.
Mature Subject Matter:
Brief road rage, panic attacks, homelessness, alcoholism, reference to PTSD, war (reference), DUI causing a car accident resulting in death, child abuse (reference), anorexia (reference).
Alcohol / Drug Use:
Very frequent drinking and reference to drinking by adults at home and restaurants; character wonders if another is a drug dealer; alcohol abuse; reference to drug abuse; smoking cigarette and marijuana; a few incidents of a minor drinking (one a reference); reference to a drug dealer; a few incidents when character is given medication and he says he wants to remember what it is for another time; reference to character overdosing.
Reviewed By Jenny