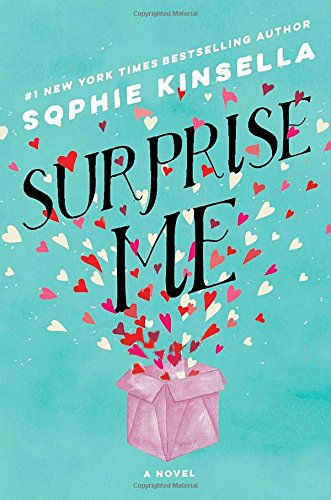 Publisher's Note:
A witty and emotionally charged novel that delves into the heart of a marriage, and how those we love and think we know best can sometimes surprise us the most—from #1 New York Times bestselling author Sophie Kinsella

After ten years together, Sylvie and Dan have a comfortable home, fulfilling jobs, and beautiful twin girls, and they communicate so seamlessly they finish each other's sentences. They have a happy marriage and believe they know everything there is to know about each other. Until it's casually mentioned to them that they could be together for another sixty-eight years . . . and panic sets in.

They decide to bring surprises into their marriage to keep it fresh and fun. But in their pursuit of Project Surprise Me—from unexpected gifts to restaurant dates to sexy photo shoots—mishaps arise, with disastrous and comical results. Gradually, surprises turn to shocking truths. And when a scandal from the past is uncovered, they begin to wonder if they ever really knew each other at all.

With a colorful cast of eccentric characters, razor-sharp observations, and her signature wit and charm, Sophie Kinsella presents a humorous yet moving portrait of a marriage—its intricacies, comforts, and complications. Surprise Me reveals that hidden layers in a close relationship are often yet to be discovered.
This book was sent to Compass Book Ratings for review by Random House
Surprise Me: A Novel
by Sophie Kinsella
Overall Review:
Sophie Kinsella is probably most known for her chick-lit Shopaholic series; however, I have never actually read any of that collection. Honestly, I can't say that I want to; I'm quite content with reading her standalone novels. A little bit of chick-lit goes a long way for me. If you're a longtime fan and reader of Kinsella's books, you'll already know her style well. She writes a delectable little book, and often they suck you right in, but don't have a lot of substance to them. Surprise Me was no different.
Within the first few chapters of this book, I was reminded of my own relationship with my husband. The main character in this book, Sylvie, notes right away how she and her husband think so much alike that they can finish each other's sentences, or predict what the other will order for dinner. Apparently, however, Sylvie and her husband Dan don't know each other quite as well as they both assumed. This is made clear after they come up with the idea of surprising each other with gifts, experiences, etc.
This was a fun, down to earth read that had very little substance, and was cliche at times, but it also reminds the reader that just because you think you know someone doesn't mean you do. Sylvie was a little bit of an air-head at times, but that did make her character easy to laugh at and easy to pity. If you're looking for a book about a middle-aged married couple who think they have it all and then begin to question it, then this just might fit the bill. And hey, it's a "love story" just in time for Valentine's Day!
Review of an Advance Reader Copy
Content Analysis:
Profanity/Language: 8 religious exclamations; 7 mild obscenities; 8 scatological words; 1 anatomical term; 9 F-word derivatives.
Violence/Gore: None
Sex/Nudity: A woman is mentioned to be wearing a low-cut top; a married couple kisses multiple times throughout the book; the main character is mentioned to be nude and sexual innuendo occurs in this brief scene; a married couple has sex in one scene with some innuendo/description of sex; a woman does a boudoir photo session for her husband, is mentioned to be nude and partially dressed and some description of the lingerie is given; a man and wife are described to be having sex in a brief scene with no explicit details; a woman mentions "sexy" lingerie; the main character suspects her husband is cheating on her and proceeds to assume this for a brief portion of the book.
Mature Subject Matter:
Extramarital affairs, boudoir photography session, financial trouble, divorce.
Alcohol / Drug Use:
Adults drink mixed drinks; wine is consumed by adults; an adult is mentioned to smoke.
Reviewed By Lydia