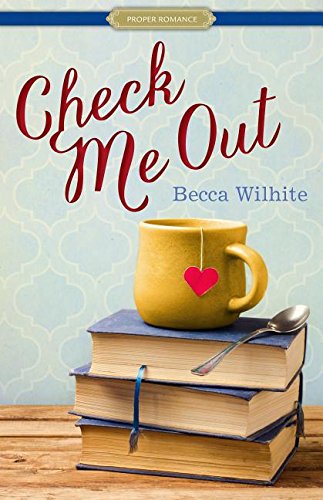 Publisher's Note:
Greta loves her job as assistant librarian. She loves her best friend, Will, the high school civics teacher and debate coach. She even loves her mother despite her obvious disappointment that Greta is still single.
Then she meets Mac in the poetry section of the library, and she is smitten. Mac is heart-stoppingly gorgeous and showers her with affection, poetic text messages, and free hot chocolate at the local café where he works. The only problem is that he seems to be a different person in his texts than in his face-to-face conversation.
When the Franklin Library is threatened with closure, Greta leaps into action. She arranges for a "battle of the bands" book jam, hosts a book signing by a famous author, and finally, stages a protest that raises more than a few eyebrows.
Through it all, she slowly realizes that it is Will, not Mac, who she turns to for support and encouragement. Mac has the looks; Will has the heart. How can she choose between them?
Check Me Out is a contemporary romance--with just a hint of Cyrano de Bergerac--that reminds us that it is what's on the inside that matters most.
This book was sent to Compass Book Ratings for review by Shadow Mountain
Check Me Out
by Becca Wilhite
Overall Review:
Check Me Out is the newest addition to Shadow Mountain's Proper Romance series. Written by Becca Wilhite, the narrative is a sweet story with themes of self-discovery, inner beauty, and old versus new. At the beginning of the book main character Greta is shallow, clueless, and downright unlikeable. Wilhite's strong writing and careful character development transform Greta into a mature and interesting protagonist. Check Me Out will take readers through a bevy of emotions with its plot turns, all while appealing to younger generations with tweets and texts on nearly every page. Wilhite manages to make Greta's romance incredibly realistic -- clever and witty, yet also poignant and heartbreaking. With its entertaining story, appealing cover art and clever title, bibliophiles and romantics alike will adore this book!
Review of an Advance Reader Copy
Content Analysis:
Profanity/Language: None
Violence/Gore: None
Sex/Nudity: Frequent incidents of kissing; a non-sexual depiction of "nearly naked statues".
Mature Subject Matter:
Loss of job, segregation, a protest includes a book burning.
Alcohol / Drug Use:
A character recalls a story about someone being a designated driver; it is alluded that a character's father drinks.
Reviewed By Rachel