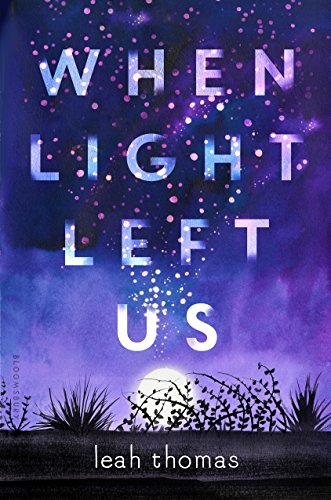 Publisher's Note:
When the Vasquez siblings' father left, it seemed nothing could remedy the absence in their lives . . . until a shimmering figure named Luz appeared in the canyon behind their house.
Luz filled the void. He shot hoops with seventeen-year-old Hank's hands. He showed fourteen-year-old Ana cinematic beauty behind her eyelids. He spoke kindly to eight-year-old Milo. But then Luz left, too, and he took something from each of them. As a new school year begins, Hank, Ana, and Milo must carry on as if an alien presence never altered them. But how can they ever feel close to other people again when Luz changed everything about how they see the world and themselves?
In an imaginative and heartfelt exploration of human--and non-human--nature, Leah Thomas champions the unyielding bonds between family and true friends.
This book was sent to Compass Book Ratings for review by Bloomsbury USA.
This book was sent to Compass Book Ratings for review by Bloomsbury USA
When Light Left Us
by Leah Thomas
Overall Review:
When Light Left Us is a vastly different take on the alien encounter experience then any book I have ever read. With characters as normal and relatable as the next-door neighbor, you will find yourself wondering if this fictional account really could happen in your world.
Hank, Ana, and Milo are some of the most relatable characters that I have recently encountered. Uniquely flawed, they are the kids next door that we all encounter on a daily basis. Abandoned by their father and raised by a mother who isn't quite sure she wants to be a mother, this is the story of one family and how they cope when an other-worldly creature takes over their bodies and minds for a period of time.
This novel is written with a back-and-forth timeframe and is not told in a linear format. Jumping between the point of view of all three children, the mother, and occasionally Luz, the other-worldly entity, it can take a bit to follow the timeline and piece together whether experiences are overlapping or are in a sequential order.
The author tackles difficult family dynamics and social situations with grace and efficiency. Each conflict is very realistic and doesn't feel contrived and forced. The last third of the book definitely has some twists and turns that you won't see coming. Overall a good book for those who aren't interested in overly "science-y" science fiction.
Review of an Advance Reading Copy
Content Analysis:
Profanity/Language: 17 religious exclamations; 57 mild obscenities; 5 religious profanities; 5 derogatory names; 55 scatological words; 28 anatomical terms; 2 offensive hand gestures; 48 f-word derivatives.
Violence/Gore: Alien being inhabits human bodies; teens crash car into sign resulting in bruises, cuts and minor injuries; boy smashes dishes and trashes kitchen; boys push and shove with no injuries; hands are raw and blistered; girl scratches eyes until bloody, tapes eyelids open; three instances of imagined harm to another; report of a train crash with two fatalities; girl attempts to burn own eyes with match; multiple references to a bloodstain on floor; teen boy spits on another teen boy; multiple references to self-harm/mutilation including putting safety pins through legs and cutting face with knife; teen is shoved in car trunk; depictions of blood dripping from self-mutilation wounds; dead cats in science classroom fall out of cupboard; teen shoved into locker; cuts on feet; teen boy beats, punches and kicks another resulting in minor injuries.
Sex and Nudity: 6 kisses between opposite and same sex teens; two references to having sex; one instance of hand holding; multiple references to teen boy being gay; crude reference to male genitalia; implied/refenced sexual activity between teen boys (twice).
Mature Subject Matter:
Death of family member, divorce/separation, marriage infidelity, mental disorders, paranormal activity, sex issues, homophobia, homosexuality.
Alcohol / Drug Use:
Adults drink alcohol at party.
Reviewed By Beckie