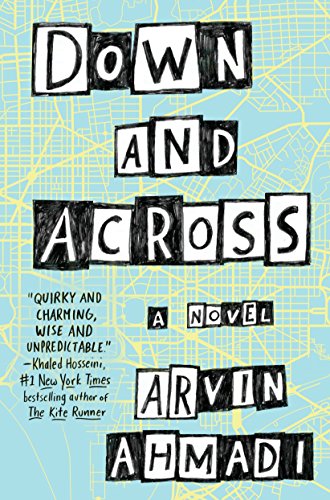 Publisher's Note:
Scott Ferdowsi has a track record of quitting. His best friends know exactly what they want to do with the rest of their lives, but Scott can hardly commit to a breakfast cereal, let alone a passion. With college applications looming and his parents pushing him to settle on a "practical" career, Scott sneaks off to Washington, DC, seeking guidance from a famous psychologist who claims to know the secret to success.

He never expects an adventure to unfold. But that's what Scott gets when he meets Fiora Buchanan, a ballsy college student whose life ambition is to write crossword puzzles. When the bicycle she lends him gets Scott into a high-speed chase, he knows he's in for the ride of his life.

Soon, Scott finds himself sneaking into bars, attempting to pick up girls at the National Zoo, and even giving the crossword thing a try—all while opening his eyes to fundamental truths about who he is and who he wants to be.
This book was sent to Compass Book Ratings for review by Viking Books for Young Readers
Down and Across
by Arvin Ahmadi
Overall Review:
Arvin Ahmadi's debut novel, Down and Across, is an entertaining and thought-provoking read. Sixteen-year-old Saaket (a.k.a. Scott) takes the opportunity, for the first time, to do his own thing. Having been blessed with parents who always "guided" his choices (i.e. made them for him), he's jumping at the chance to finally choose his own path while his parents go out of town. He couldn't have imagined the ride he was about to embark.
Saaket's adventure seems impossible, yet entertaining. Along the way he meets an eclectic set of friends and acquaintances who help him create a memorable summer. The characters are well-developed and have such different personalities you'll laugh at the ridiculous and perfect dynamics of each relationship. While the story might seem to be a light read on the surface, it also touches on some more serious subjects such as depression, anxiety, and bigotry. Saaket may even inspire you to pursue a seemingly impossible dream after you read what he overcomes. With the right amount of humor, drama, lessons learned, and aforementioned diverse characters, Down and Across will be enjoyed by a wide variety of YA audiences, both male and female.
Review of an Advance Reader Copy
Content Analysis:
Profanity/Language: 16 religious exclamations; 22 mild obscenities; 10 religious profanities; 4 derogatory names; 57 scatological words; 22 anatomical terms; 38 f-word derivatives.
Violence/Gore: Several (14) brief incidents including possibility that character could have died; character jokes about wanting to stab self; character wonders if touching wire will kill him; verbal threat; second-hand report of character cutting self many times as an experiment; reference to war; character passes a gang member; reference to small decorative item thrown and broken; reference to terrorists killing hundreds; second-hand report of child getting pushed off of a jungle gym; reference to character's grandma dying; reference to suicide; character gets in a bike accident that results in minor injuries.
Sex/Nudity: Many (37) brief incidents including romantic story referenced; dancing; touching back, arm and hand; male character sees girl in towel and thinks about "making a move"; homosexual person flirts with heterosexual person; reference to flirting; breasts visible through shirt; reference to sexual history; reference to large breasts; reference to masturbation; reference to sexting; innuendo; character jokingly suggests putting "penis" in a crossword puzzle; reference to virginity; a few incidents when characters call other characters "ballsy"; reference to gay marriage; reference to male genitalia; reference to STD; references to sex; reference to sex worker; character is homosexual; female character gives male character a hug and he notices that her breasts are pressed up against him; characters dance and make out; reported sex; character rubs another's inner thigh, they make out and one attempts more but other declines so nothing further occurs; female character removes clothes in front of male character to change clothes and he stares at her.
Mature Subject Matter:
Depression, anxiety, divorce, reference to parent previously having a drug problem.
Alcohol / Drug Use:
Character smells of pot; several incidents of underage drinking; several incidents of characters drinking at bar; character wonders if another did drugs; references to characters doing drugs; smoking; character's mother previously had a drug problem; reference to drug dealers.
Reviewed By Jenny