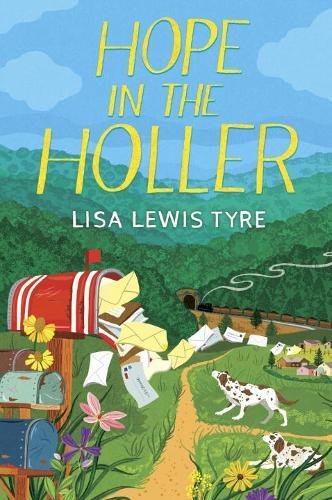 Publisher's Note:
Right before Wavie's mother died, she gave Wavie a list of instructions to help her find her way in life, including this one: Be brave, Wavie B! You got as much right to a good life as anybody, so find it! But little did Wavie's mom know that events would conspire to bring Wavie back to Conley Hollow, the Appalachian hometown her mother tried to leave behind. Now Wavie's back in the Holler--and in the clutches of her Aunt Samantha Rose. Life with the devilish Samantha Rose and her revolting cousin Hoyt is no picnic, but there's real pleasure in sleeping in her own mother's old bed, and making friends with the funny, easygoing kids her aunt calls the "neighborhood-no-accounts." With their help, Wavie just might be able to prevent her aunt from becoming her legal guardian, and find her courage and place in the world.
This book was sent to Compass Book Ratings for review by Nancy Paulsen Books
Hope in the Holler
by Lisa Lewis Tyre
Overall Review:
With words that drizzle like warm molasses over a plate of steaming flapjacks, author Lisa Lewis Tyre's second middle grade novel, Hope in the Holler, is simply scrumptious!
Twelve-year old protagonist Wavie B. no longer fears death after her mother's passing; it's living a life without the hope of love that scares her. Haphazardly planted in the mountains of Kentucky with her conniving relatives, she must navigate the strangeness of her mother's hometown of Conley Hollow. Wavie strives to follow her mama's dying instructions, "Be Brave, Wavie B! You got as much right to a good life as anybody, so find it!" Determined not to lose hope, Wavie and her kooky cohorts develop friendships, delve into a mystery, and discover ambitions that are worth going after.
A mixture of sunshine and dark clouds are felt by the reader as they experience the tides of Wavie's life. Sophisticated subjects such as poverty and fractured families are written with a child-like innocence that comes across as honest without sensationalism. This type of structure lends itself to a wider audience base and would be suitable for children younger than twelve years of age with the assistance of their parent or guardian.
The familiar prose of young brave individuals and heartwarming humor, this book is reminiscent of Louis Sachar's Holes, and Sharron Creech's Walk Two Moons.
5 shining stars for Hope in the Holler!
Review on an Advance Reader Copy
Content Analysis:
Profanity/Language: 4 religious exclamations. Note:1 religious exclamation acronym is used.
Violence/Gore: 6 humorous thoughts, actions, or threats of violence; character kicks a dog out of their path; aimless threat; about 4 reports of violent accidental deaths; 2 incidents in which an adult guardian is physically violent with their child ward; teenager physically hurts a child who is their relative.
Sex/Nudity: None
Mature Subject Matter:
Illness/death of a loved one, poverty, fraud, physical abuse, adoption/custody, single parent/dysfunctional family.
Alcohol / Drug Use:
Adult smokes cigarettes.
Reviewed By MaryLou