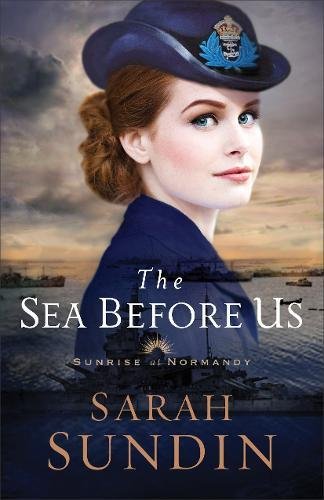 Publisher's Note:
In 1944, American naval officer Lt. Wyatt Paxton arrives in London to prepare for the Allied invasion of France. He works closely with Dorothy Fairfax, a "Wren" in the Women's Royal Naval Service. Dorothy pieces together reconnaissance photographs with thousands of holiday snapshots of France--including those of her own family's summer home--in order to create accurate maps of Normandy. Maps that Wyatt will turn into naval bombardment plans.

As the two spend concentrated time together in the pressure cooker of war, their deepening friendship threatens to turn to love. Dorothy must resist its pull. Her bereaved father depends on her, and her heart already belongs to another man. Wyatt too has much to lose. The closer he gets to Dorothy, the more he fears his efforts to win the war will destroy everything she has ever loved.

The tense days leading up to the monumental D-Day landing blaze to life under Sarah Sundin's practiced pen with this powerful new series.
This book was sent to Compass Book Ratings for review by Revell
The Sea Before Us
by Sarah Sundin
Overall Review:
The Sea Before Us is Sarah Sundin's opening book in the Sunrise at Normandy series. Historical fiction lovers who are fond of the World War II era will enjoy this book. It is similar to other series by Sundin because it follows the men and women serving in the military.
The emotional challenges of the main characters, Wyatt and Dorothy, are heart-breaking. It is sad to see the depths of their pain and lack of confidence as a result of life's experiences. The progress both Wyatt and Dorothy make with each other's help and leaning heavily on the Lord is very satisfying.
Stories like this one leave readers contemplating their own lives and reevaluating priorities. The story contains messages of hope, healing, and touches on the tragedies of war. As the story develops, there are some unexpected events which just add more intensity to the lives of the characters. Readers familiar with Sarah Sundin and her work will be pleased and find this book a rewarding read and look forward to the next installment.
Review of an Advance Reading Copy
Content Analysis:
Profanity/Language: None
Violence/Gore: A person falls to her death; report of family members being casualties of war; bodies are seen floating in the water as a result of a ship being sunk; a multi-page scene depicting part of the storming of the beaches on D-Day, including fatalities, guns, explosions.
Sex/Nudity: Non-married characters kiss and embrace; two people not married to one another are involved in an adulterous relationship; a married man is mentioned to have been involved with many women.
Mature Subject Matter:
Death of family and friends, war, embezzlement, adultery.
Alcohol / Drug Use:
Adult character mentions buying someone a beer; a man bribes someone with a bottle of scotch.
Reviewed By Susan