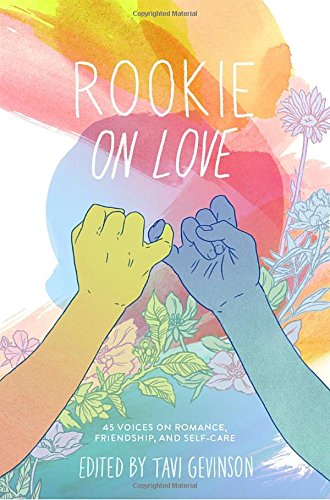 Publisher's Note:
A single-subject anthology about the heart's most powerful emotion, edited by Tavi Gevinson. Featuring exclusive, never-before-seen essays, poems, comics, and interviews from contributors like Jenny Zhang, Emma Straub, Hilton Als, Janet Mock, John Green, Rainbow Rowell, Gabourey Sidibe, Mitski, Alessia Cara, Etgar Keret, Margo Jefferson, Sarah Manguso, Durga Chew-Bose, and many more!
This book was sent to Compass Book Ratings for review by Razorbill
Rookie on Love
by Tavi Gevinson
Overall Review:
Since variety is the spice of life, how about spicing up your life by breaking outside your standard reading genre and venturing into something new? That's precisely what I did with Rookie on Love-- a compilation of over 40 contributors all expounding on the topic of love thru essays, poems, lyrics, illustrations, and interviews. With exhibitions from the likes of John Green, Rainbow Rowell, and Gabourey Sidibe, and a sweet candy-coated cover how could your interest not be piqued? Unfortunately for this reviewer, except for six works, there was nothing that I found interesting, relatable, or time worthy of this book.
This collection is geared towards teenage ladies, though most of the assorted stories are created by women 21 years of age or older, shifting the subject matter towards a more mature age group. For pubescent and teen girls who are curious about their sexuality, I suggest Judy Blume and Sharon Creech, who served me just fine in my younger years.
Even though this particular book may have left a bad taste in my mouth, that will not deter me from continuing to try out new authors and categories to spice things up. Happy book hunting.
Review on an Advance Reader Copy
Content Analysis:
Profanity/Language: 5 Religious exclamations; 5 mild obscenities; 1 religious profanity; 1 derogatory name; 8 scatological words; 4 anatomical terms; 9 F-word derivatives.
Violence/Gore: Report of physical crash; report of attempted suicide; humorous reference to violence (x2); report of bullying; character imagines falling off a building; graphic illustration of crushed skull; mention of self-harm; reference to rapists; reports of violence in books and movies; a few mentions of racism; author admits to throwing an object violently and self-harming; character encourages an individual to kill themselves; ¼ page report of violence; threat of violence.
Sex/Nudity: Many (21+) references to sex acts, sexual content, gender identity; several (10+) brief and extended incidents of romance, including kissing, hand holding, being in a romantic relationship, flirting, or having feelings for the opposite or same sex; report of a botched abortion; few comments made about puberty (menstrual cycle, bras, etc..); young lady (early 20's) feels pressured by an older gentlemen (nearly 50) to have sex; a few mentions of nudity (non-sexual); picture described of a naked woman (sexual); reference to rapists; illustration of a naked individual from behind; a few brief and extended reports of adults and teens having (had) sexual relations, mature discussions regarding sex; author shares teenage memory of being touched inappropriately by a family member.
Mature Subject Matter:
Sexual accounts of teens and adults, promiscuity, sexual identity/identification.
Alcohol / Drug Use:
A few (less than 10) references to drugs and/or alcohol.
Reviewed By MaryLou