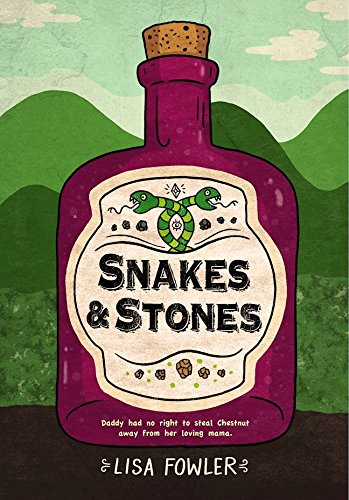 Publisher's Note:
Twelve-year-old Chestnut Hill's daddy stole her and the triplets away from their mama. At least, that's how Chestnut remembers it.

It's 1921, and after nearly two years on the road with his traveling elixir show, Daddy's still making no move to go back to Kentucky and buy Mama that house. So Chestnut is forced to come up with her own plan to get home. At night, when Daddy and the triplets are in bed, she draws up flyers with the name of the next town they'll be traveling to. Before they leave each town and hoping her mama will see them, she nails up the flyers, leaving Mama an easy trail straight to her children.

When that doesn't work, Chestnut is forced to try something bigger. But when her newest plan lands Daddy in jail and Mama has to come to the rescue, Chestnut discovers that things are not always as they seem. Written with a wonderful mountain hillbilly voice, Snakes and Stones has a mystery at its heart and lovable, strong, and complicated characters.
This book was sent to Compass Book Ratings for review by Sky Pony Press
Snakes & Stones
by Lisa Fowler
Overall Review:
Chestnut Hill longs for one thing in life: to put her family back together. It's been three years since her father loaded up their wagon and drove off, taking her, and her three siblings from their mother. Now Chestnut has a plan to help her mother find them, but will it work? Or will she discover that things are not always what they seem?
Lisa Fowler takes readers on a trundling journey through the American South in her novel Snakes and Stones. Twelve-year-old Chestnut is our guide as both main character and narrator; responsible and honest, she is also an artist who sees the world in bright colors. Her strong voice paints a picture of life on the road as vivid and clear as the ones she sees in her mind's eye. The author's colloquial style and mastery of the vernacular of the Kentucky hills combine to present a full and tangible world, taking the reader through time back to 1921. A touching story of family Snakes and Stones will enchant readers of any age.
Content Analysis:
Profanity/Language: None **The word negro is used throughout the book in reference to African Americans. It is used within proper historical context, never derogatory, by both white characters and characters of color**
Violence/Gore: Many references to perceived kidnapping; one extended scene of mob violence involving damaged property and physical altercation, including minors; girl wants to slap other girl; girl abandoned briefly on roadside; man threatens girl with physical discipline; a few instances of small children scrapping; several instances of implied or threatened violence; girl falls out of wagon; boys throw stones at wagon, hit girl; girl accidentally cuts man with scissors; brief reference to killing livestock; girl runs into man; girl recalls pushing bully into a creek; people caught in a tornado; police roughly handle man; girl kicks man; girl fears execution; man references losing a hand for theft; girl cuts finger; girl collapses.
Sex/Nudity: Girl imagines parents kissing and hugging.
Mature Subject Matter:
Family, parental abandonment, illegal and dishonest activities, race.
Alcohol / Drug Use:
References to alcohol consumption.
Reviewed By Amberle