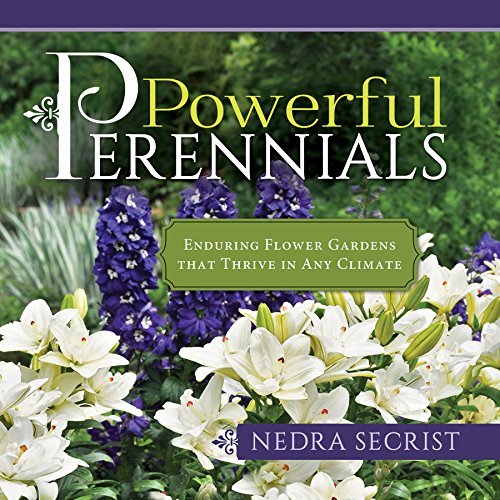 Publisher's Note:
Create your own personal paradise with a garden full of easy-to-care-for, long-lasting perennial blooms! This comprehensive guide to growing your dream garden will teach you how to pick the best perennial plants for your soil, sunlight, and climate conditions. Keep your garden blooming with Powerful Perennials so you can enjoy your yard for years to come.
Master gardener Nedra Secrist has been growing perennials for over fifty years. She and her husband, Donrey, own and operate Secrist Gardens, a nursery specializing in perennial flowers. Nedra lectures regularly to horticultural and community groups about how to garden successfully, even in soil and climate conditions are not ideal. She's condensed fifty years of green gardening methods and hands-on training into this beautiful book.
Perennial gardeners, particularly those in Western regions, have unique challenges related to dry rocky soils, intense sunlight, high elevations, and lack of water. This book discusses why gardening is different in these climates and tackles every aspect of growing perennial flowers successfully, despite an inhospitable climate, short growing season, or problems with wildlife.
The book's methods and insights are applicable to any perennial gardener. The book is broken into four sections, focusing on common gardening issues: How to garden if you live in a cold climate, how to address drought issues, how to deal with wildlife in the garden, and how to overcome the issue of poor soils. Each section includes information about dozens of perennial species that thrive even when gardening conditions aren't optimal.
Additional information comes from Nedra's vast experience with the details of gardening, and you'll find tutorials on everything from organic gardening and proper fertilization to how to properly stake flowers and design your landscape with color in mind.
This book was sent to Compass Book Ratings for review by Cedar Fort
Powerful Perennials: Enduring Flower Gardens That Thrive in Any Climate
by Nedra Secrist
Overall Review:
Powerful Perennials is a beautiful book filled with gorgeous pictures focusing on gardening in the Rocky Mountains. Nedra Secrist has done a wonderful job of highlighting each plant with an easy to understand table indicating each plant's shape, height, width, bloom time, color, site, light, hardiness, and other comments. This section is then followed by text that describes from the voice of the plant itself what it's strengths and weaknesses are, as well as tips to helping it thrive. It is a whimsical way to get information across, while still being factual and helpful.
The book is sectioned into four zones: Cold-Hardy Perennials, Drought-Tolerant Perennials, Wildlife-Resistant Perennials, and Gardening in Difficult Soils. There is also a detailed index to help you quickly find the plant you are looking for. Throughout the book there is information on all kinds of topics, such as: gardening tools, making compost, garden art, tags/identification, rooftop gardens, butterflies, and many more.
It should be noted that I did not read this book in its entirety, but enough to gain an understanding of what the content was and how it would be most useful. The text is a bit lengthy, but it provides plenty of details and knowledge. Any gardener - novice or experienced- would love this book.
Content Analysis:
Profanity/Language: None
Violence/Gore: None
Sex/Nudity: None
Mature Subject Matter:
None
Alcohol / Drug Use:
None
Reviewed By Lacey