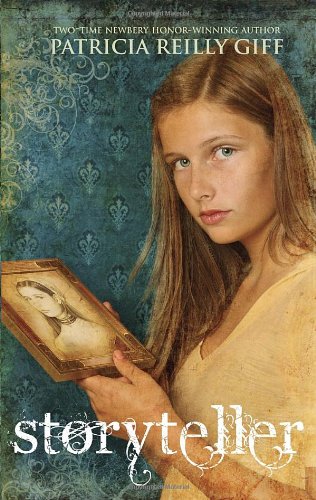 Publisher's Note:
A story of the American Revolution from two-time Newbery Honor–winning author Patricia Reilly Giff.

While staying with her aunt, Elizabeth finds something remarkable: a drawing. It hangs on the wall, a portrait of her ancestor, Eliza, known as Zee. She looks like Elizabeth.
The girls' lives intertwine as Elizabeth's present-day story alternates with Zee's, which takes place during the American Revolution. Zee is dreamy, and hopeful for the future—until the Revolution tears apart her family and her community in upstate New York. Left on her own, she struggles to survive and to follow her father and brother into battle.

Zee's story has been waiting to be rediscovered by the right person. As Elizabeth learns about Zee, and walks where Zee once walked and battles raged, the past becomes as vivid and real as the present.

In this beautifully crafted, affecting novel from beloved author Patricia Reilly Giff, the lives of two girls reflect one another as each finds her own inner strengths.
This book was sent to Compass Book Ratings for review by Wendy Lamb Books (A Random House Children's Imprint)
Storyteller
by Patricia R. Giff
Overall Review:
Beautiful and engaging, Storyteller is another excellent novel from two-time Newbery Honor-winner Patricia Reilly Giff. Modern-day Elizabeth is likable and relatable, especially in her struggle to fit in. Zee's life as a young girl in colonial America was fascinating. Through Zee's eyes, the book also sheds light on a lesser known battle of the Revolutionary War and discusses it in a realistic, yet age-appropriate way. I was both surprised and thrilled with the story's emphasis on family history and the importance of learning from the past. With its solid characters and heartwarming message, Storyteller is a must-read.
Content Analysis:
Profanity/Language: None
Violence/Gore: A character accidently slices open her knee; a character severely burns her hands; a second-hand report indicates Indians tomahawked and scalped colonists; a second-hand report indicates a character's mother was killed in a fire; a character participates in a battle, briefly fights off an attacker and witnesses her father last breathe as a result of his war injuries.
Sex/Nudity: A character recalls kissing her childhood crush.
Mature Subject Matter:
War and death
Alcohol / Drug Use:
***
Reviewed By Rachel