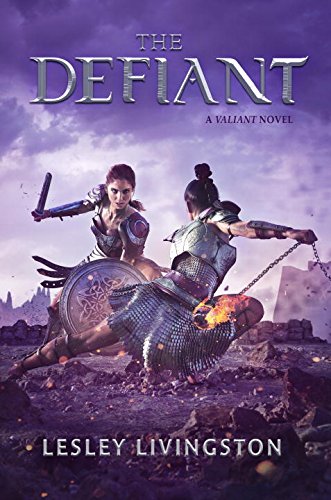 Publisher's Note:
The darling of the Roman Empire is in for the fight of her life in this lush sequel to the acclaimed historical fantasy The Valiant.
Be brave, gladiatrix... And be wary. Once you win Caesar's love, you'll earn his enemies' hate.
Fallon was warned.
Now she is about to pay the price for winning the love of the Roman people as Caesar's victorious gladiatrix.
In this highly anticipated sequel to THE VALIANT, Fallon and her warrior sisters find themselves thrust into a vicious conflict with a rival gladiator academy, one that will threaten not only Fallon's heart - and her love for Roman soldier Cai - but the very heart of the ancient Roman Empire.
When dark treachery and vicious power struggles threaten her hard-won freedom, the only thing that might help the girl known as Victrix save herself and her sisters is a tribe of long-forgotten mythic Amazon warriors.
The only trouble is, they might just kill her themselves first.
This book was sent to Compass Book Ratings for review by Razorbill
The Defiant
by Lesley Livingston
Overall Review:
Fallon and her gladiatrices are back in a new story of vengeance, betrayal, and triumph that will lead you across the sea, thru the dark and back on to the other side.
The Defiant is the second book in The Valiant Series by Lesley Livingston. I would highly encourage you to read the first book before starting this one. While you can probably pick up enough to get by, you'll miss a lot of nuances and background info by skipping the first book. This sequel picks up an undisclosed period of time after Fallon has become Victrix. The Ludus Achillea is being handed over by Caesar to her older sister, Sorcha, and the female gladiators will experience a taste of relative freedom.
But Aquila isn't one to let things go easily. He overthrows the Ludus Achillea and sends Fallon on a chase to Corsica to rescue Sorcha and reclaim the Ludus he has stolen. Nyx is back with her whip from Hades as are your other favorite characters in Elka and Cai. Joined by a cast of new characters, including a love interest for Elka in the form of Cai's right-hand man, this book does a better job than the first of introducing the reader to the new gladiatrices.
The only downside to this book is that the story seems a little more forced and doesn't flow as easily as it did in the first novel. Still interesting enough to keep the reader coming back for more and to keep the story moving forward, but isn't one that you just can't put down like the first. The ending is also rather abrupt and more than a little predictable, but the characters are engaging which makes up for a flatter ending.
Whether this is the last in the series or there are more to come, I would recommend The Defiant as a great female strength novel that will inspire girls to never give up and that they can accomplish anything they set their minds and hearts to.
Review of an Advance Reading Copy
Content Analysis:
Profanity/Language: 15 mild obscenities; 15 derogatory names; 2 anatomical terms.
Violence/Gore: 2 instances of recalling bloody battles; boat is destroyed in crash; woman falls from great height and gets tangled in ropes injuring foot, but saving life; wooden sword thrown at man's head; cuff to side of head; reports of deaths in fighting arena (multiple); report of murder; friendly elbow to ribs; practice sparring; woman cut by spear; report of attack by bear with subsequent scars; nightmare of bloody corpse; 6 lengthy scenes totaling 29 pages of intense bloody hand to hand combat battles involving amputations, wounds, stabbings, throat slashings and death (graphic depictions); woman beaten with whip with graphic imagery of face being sliced open; 2 instances of remembering or describing acts of cannibalism; numerous verbal threats of death or bodily harm; shape carved into woman's arm against wishes; murder of man by cutting throat; numerous cuts, bumps, scrapes, bruises and minor injuries; unconscious woman dragged away in chains; girl held at sword point; hands cut to swear oath; man is speared thru chest.
Sex/Nudity: 11 instances of kissing; 1 hug; 3 instances of hand-holding; reference to sharing a bed; hands on thighs and under shirt; arm around shoulder; couple baths each other with depiction of male nudity from waist up.
Mature Subject Matter:
Death, political conflict, war, gambling, murder.
Alcohol / Drug Use:
Characters drink wine and beer throughout book.
Reviewed By Beckie