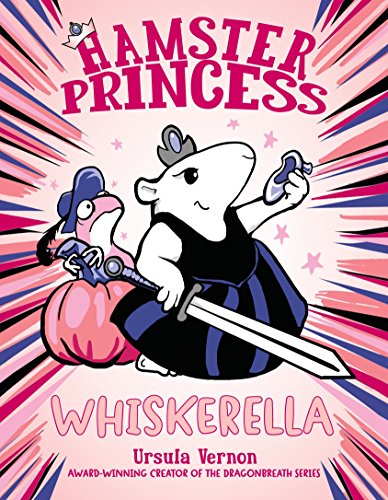 Publisher's Note:
A funny, feminist twist on the Cinderella fairy tale for fans of fractured fairy tales

Princess Harriet Hamsterbone is not the kind of princess who enjoys fancy dresses or extravagant parties. Cliff-diving, fractions, and whacking people with swords are more her thing. So when she's forced to attend a boring ball in honor of a visiting ambassador, Harriet is less than thrilled--until a bewitchingly beautiful stranger arrives. Who is she? And where did she come from? The mystery leads to a not-so-wicked stepsister, an incontinent lizard, and a fairy's spell that's really more of a curse. Luckily, Harriet knows a thing or two about curses...

Smart, funny, and filled with swashbuckling adventure, book five in the critically acclaimed Hamster Princess series is a hilariously re-told fairy tale for the modern age.
This book was sent to Compass Book Ratings for review by Dial Books for Young Readers
Hamster Princess: Whiskerella
by Ursula Vernon
Overall Review:
Harriet is an atypical princess who would much rather yield a sword than a ball gown. In Whiskerella, we follow our heroine in her fifth book in the Hamster Princess Series. This installment is a spoof on Cinderella with quite a different ending and divergent elements. I have not read any of the previous Hamster Princess books, but I was able to follow along fairly well while only minimal misunderstandings of the backstory.
The story is filled with adventure, unexpected twists and turns, as well as moments of humor. Harriet has many sidekicks that help her on her way. She is a smart hamster who is determined to help others.
The Hamster Princess books are a mix between a chapter book and a graphic novel. The pictures and speaking bubbles are placed at good distances to keep the story moving and provide visual breaks from the text. It is a perfect book for the child transitioning from picture books to chapter books. The series is targeted to a strong, tomboy female who likes alternate endings to fairy tales; although, boys would enjoy it as well. Ursula Vernon is the author of the Dragonbreath series, which I believe is more geared to boys.
Review of an Advance Reading Copy
Content Analysis:
Profanity/Language: None
Violence/Gore: Fantasy violence including: slaying of ogrecats, slaying monsters, animals exploding into other animals, ogrecats eating neighbors; implied tripping; a few references of hitting individuals over the head repeatedly into submission; tail stepped on; feet stepped on while dancing; leprosy mentioned - bits of you fall off; threats of violence; mention of dying of old age; threat of feet falling off; mention of fact that vampires drink people's blood; "Mom is going to kill me"; potential violence at any moment; threat of completing an action if it kills them; threat to kick someone; pushed individual; sword fighting an unarmed animal; animal bites individual; individual is punched.
Sex/Nudity: Individual tucks arm through another individual's arm.
Mature Subject Matter:
Sword fights, fantasy violence.
Alcohol / Drug Use:
None
Reviewed By Lacey