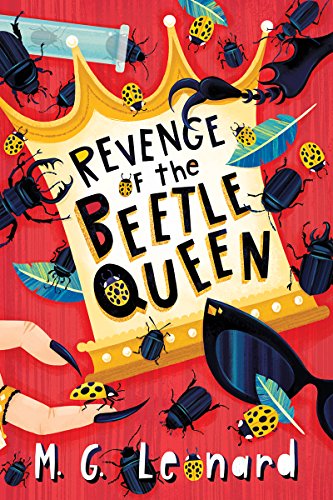 Publisher's Note:
Cruel beetle fashionista, Lucretia Cutter, is at large with her deadly yellow ladybug spies -- and she has a devious plan. When Darkus, Virginia, and Bertolt discover further evidence of her evil, they're determined to stop her.

But the three friends are in trouble. Darkus's dad has forbidden them to investigate any further -- and disguesting crooks Humphrey and Pickering are out of prison. Hope rests on Novak, Lucretia's daughter and a Hollywood actress, but the beetle villainess is always one scuttle ahead...

Beetles are back in an even-more-thrilling, chilling, and darkly funny sequel that will have readers clamoring for more.
This book was sent to Compass Book Ratings for review by Chicken House
Revenge of the Beetle Queen (Battle of the Beetles)
by M.G. Leonard
Overall Review:
If you have a reader who enjoys entomology, this might just be the book for them. Full of science and bug terms, which have been presented in an interesting way within the story, there is a lot to be learned from this fun tale of good versus evil. Complete with fantastic details, even a person who isn't crazy about bugs could find this a fun read. The author's use of language and vocabulary, while making it understandable for young readers, is beautifully balanced for quite an age range. Geared toward 3rd to 7th grade readers, this book is written on the higher end of the reading scale. It would make any grammar teacher proud. However, for your youngest readers, this would make an excellent read aloud because kids can always listen at a higher grade level than they can read. Moreover, it was fascinating to look up pictures of all the bugs and beetles mentioned within these pages.
The main heroes are two young men and a young lady who are full of energy. A bit too smart and mischievous for their own good, they are determined that good WILL overpower the bad lady, the antagonist of the story. Their supporting characters are made up of family members who try to protect them yet encourage them to be young people of integrity who choose to do the right thing. The pacing is well done and the author did an outstanding job of conveying right vs. wrong without menacing or gory details. There are four books in this series. Books three and four are both being released in February 2018.
Review of an Advance Reading Copy
Content Analysis:
Profanity/Language: None
Violence/Gore: Woman wants 2 men destroyed; mention of when a boy was previously shot by a woman, no death; mention of a man who was previously kidnapped, thrown into prison, and bugs sent in to attack him; multiple mentions of a mother who died previously; mention of a mom who had her daughter thrown into prison and attacked by bugs, painful bites and sores; 2 men dream of hurting a boy; newspaper article about a boy who supposedly drowned; slightly gross story about eating bugs and other living beings (no people); man bitten by bug, possibly lethal; boy runs into a burning building, smoke and heat; multiple mentions of hundreds of bugs murdered; 2 kids run into a burning building; 2 men left in a burning building knowing the fire department would find them; a funeral for the murdered bugs, minor descriptions of funeral pyre, not gory; 2 men sleep in and eat from a garbage dumpster, gross; man punches and knocks out 2 other men; man points gun toward audience; woman fires warning shot at man, no harm; woman shoots another woman, no harm; fights break out between people; beetles attack woman with acid; woman accidentally kicks man in the privates; girl kicks woman in the blistered face causing blisters to pop and spraying some blood, no gory details; animals attack woman; man broke his nose, some blood.
Sex/Nudity: Man ties his blanket in knots until it looks like a doll, pretending it's a woman, he kisses it; multiple mentions of a naked actress when her dress is destroyed, no descriptions of nudity.
Mature Subject Matter:
Scientific ethics, death of mother, cloning, evil parent, evolution, food supply vs. overpopulation, bribery.
Alcohol / Drug Use:
None
Reviewed By Beth