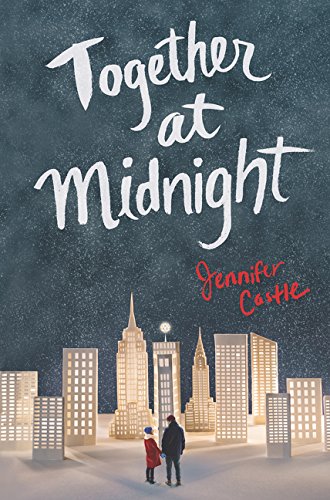 Publisher's Note:
Combining the emotional deftness of Sarah Dessen with the magical spark of New York City in wintertime, this affecting novel will inspire readers to pay closer attention to the world around them.
What does it really mean to be kind . . . and why does it sometimes feel like the hardest thing in the world to do?
High school senior Kendall, who just returned from a life-changing semester in Europe, and Max, who is drifting his way through a gap year before college, struggle with these questions when they witness a tragic accident in New York City during the holiday season.
Racked with guilt, the two accept a dare to perform random acts of kindness to strangers. The challenge pulls these two teens, who have a history together from back home, closer and closer as they explore a vibrant city filled with other people's stories and secrets.
Kendall and Max can't deny their growing bond, even though they both have other romantic entanglements and uncertain futures. As the clock counts down on New Year's Eve, will they find themselves together at midnight?
Jennifer Castle's latest novel is a romantic, thought-provoking tale of human connection and how we find—and make—our place in the world.
This book was sent to Compass Book Ratings for review by Harper Teen
Together at Midnight
by Jennifer Castle
Overall Review:
With thoughtful prose packaged in a young adult contemporary novel, author Jennifer Castle presents a sweet message against the backdrop of a hard-knock snowy city.
After teen protagonists Max and Kendall witness a horrible accident that they feel partially responsible for, they vow to do penance. With the conviction that everyone they meet is fighting a hard battle, these two teens set off to figure out how to commit a set number of random acts of kindness in a certain amount of time.
The chapters shift among Max, Kendall, and each of their intended recipients of service. The hand-off between one character to the next can be differentiated by the title of the chapter and the circumstances that the said character is discussing. Although the book is told in different first-person accounts, each narrative reads quite similar to the next and could easily be mistaken for another person's version of events. Every character came across as diverse with their share of complex problems, but with each denoting deep introspection about their particular situation, the voices become one voice with no tonality.
The charming tenderness of two teens haphazardly figuring out how and who to serve gives reverence to the saying, "the best way to find yourself, is to lose yourself in the service of others." This dulcet was trodden under by irrelevant crude obscenities that felt incongruent and overdone, thus overriding any lasting feel good sentiments.
If whimsy yet intellectual young adult contemporary novels with snowy backdrops are your jam, then you might enjoy reading, David Arnold's, Kids of Appetite, or A Hundred Hours of Night by Anna Woltz.
Review of an Uncorrected Proof
Content Analysis:
Profanity/Language: 37 Religious exclamations; 24 mild obscenities; 6 religious profanities; 2 derogatory names; 45 scatological words; 9 anatomical terms; 18 F-Word derivatives. Note: 3 anagrams used about the F-word.
Violence/Gore: Few (less than 10) jokes about violence; extended scene (about ¼ page) characters witness an individual being hit by a vehicle (non-graphic); remark about an individual's parent being an abusive drunk who attends AA; character is almost hit by a vehicle; husband and wife shout at each other, slap each other's hands; character reminisces about an attempted mugging, and how they fought the robbers off.
Sex/Nudity: Several (20+) scenes of teens flirting, briefly kissing, holding hands, hugging, being romantic with one another/thinking about being romantic; adult character is a homosexual and lives with his partner; teen makes a reference to their parent's sex life; joke about nudity (2x); remark made about sexual orientation; adult homosexuals kiss; teen has a memory of kiss (mentioned throughout story); male becomes sexually aroused (2x); reference to sex; extended scene remark made about an individual's sexual orientation; extended scene (about 1 page) teen relates their first experience having sex (non-graphic); extended scene (about 1 page) character thinks about other people having sex; female receives a shirtless photo of a male with a flirtatious message; extended scene (about 1 page) homosexual admits to cheating on their significant other; remark about sending sexy selfies; comment made about pubic hair; character teasingly calls an individual a sexist; extended scene (about ¼ page) character tells their friend that they lost their virginity; wife knows husband is cheating on her; 17-year-old female admits to dating a 30-year-old male; sexual joke; teens hug each other tightly, put their hands in each other's pockets; extended scene (about ½ page) male and female teen kiss, lay down cuddling with one another and fall asleep.
Mature Subject Matter:
Volatile relationships with family/significant others, fidelity, sexuality.
Alcohol / Drug Use:
Mention that a room smells of marijuana; remark about photograph depicting teens smoking cigarettes; a few times teens admit to drinking/being drunk; a few mentions of teens possibly going to a bar; remark about an individual's parent being an abusive drunk who attends AA; parent drinks wine; mention of sibling selling their prescription drugs; child comments about their parent's friends smoking marijuana; adult smokes cigarettes; drug reference; adults and teens drink champagne at a party.
Reviewed By MaryLou