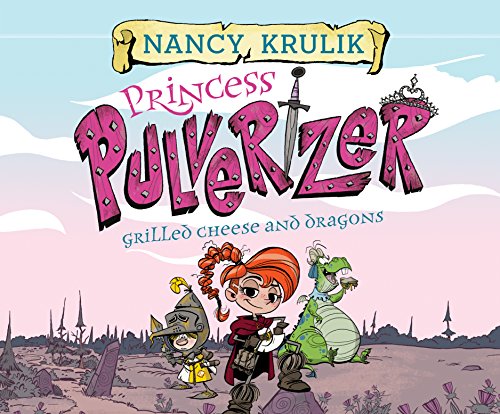 Publisher's Note:
Meet the princess who'd rather wear a suit of armor than a crown!

Princess Serena (or as she prefers, Princess Pulverizer) doesn't want to be a princess--she wants to be knight! But her father, King Alexander of Empiria, thinks she still has a lot to learn when it comes to exhibiting valiant behavior. So he presents a challenge: the princess must first go on a Quest of Kindness and perform good deeds to prove that she truly deserves to go to knight school. With help from a friendly dragon named Dribble and a perpetually terrified knight-in-training named Lucas, can she complete her quest and discover what it really takes to be a hero?
This book was sent to Compass Book Ratings for review by Penguin Workshop
Princess Pulverizer: Grilled Cheese and Dragons #1
by Nancy Krulik
Overall Review:
Princess Pulverizer Grilled Cheese and Dragons is the first in a new fantasy series for early readers. A tom boy princess takes charge of her future by embarking on a Quest of Kindness. Not accustomed to thinking of others, this new quest presents a challenge. She gains associates - a fearful knight in training and a gassy dragon- along the way, who help her in this quest. It is written in engaging text with equally entertaining illustrations by Ben Balistreri. The reading is easy and the storyline comprehendible.
This is a great read for readers who are looking for a girl-power heroine. However, I read it to my six-year-old son, and he found it very captivating and funny. What with knights, sword fights, adventure, dragons, ogres, etc., how could he not? I am looking forward to the series and where Princess Pulverizer's Quest may lead.
Content Analysis:
Profanity/Language: None
Violence/Gore: Minor desire to slay dragons and sword fight; near miss on being crushed; a few threats of harm from ogre; branch falls on head; threat of slaying; report of dragon burning villages; threat to slay dragon; fear of dragon burning down tower with minors inside; thought of sword stabbing ogre in chest; character kicked in the knees, hit head on door post - leaving unconscious- then being hit in the head with a frying pan - again leaving unconscious - events spread out over 9 pages; minor pushes another minor.
Sex/Nudity: None
Mature Subject Matter:
None
Alcohol / Drug Use:
None
Reviewed By Lacey