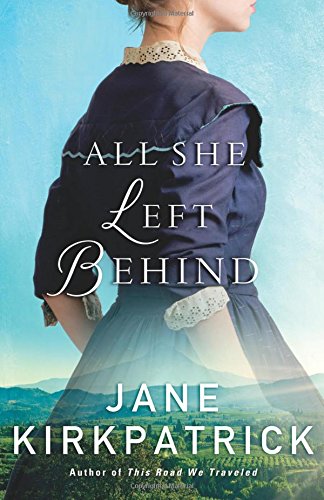 Publisher's Note:
Already well-versed in the natural healing properties of herbs and oils, Jennie Pickett longs to become a doctor. But the Oregon frontier of the 1870s doesn't approve of such innovations as women attending medical school. To leave grief and guilt behind, as well as support herself and her challenging young son, Jennie cares for an elderly woman using skills she's developed on her own. When her patient dies, Jennie discovers that her heart has become entangled with the woman's widowed husband, a man many years her senior. Their unlikely romance may lead her to her ultimate goal--but the road will be winding and the way forward will not always be clear. Will Jennie find shelter in life's storms? Will she discover where healing truly lives?

Through her award-winning, layered storytelling, New York Times bestselling author Jane Kirkpatrick invites readers to leave behind their preconceived notions about love and life as they, along with Jennie, discover that dreams may be deferred--but they never really die. Based on a true story.
This book was sent to Compass Book Ratings for review by Revell
All She Left Behind
by Jane Kirkpatrick
Overall Review:
All She Left Behind by Jane Kirkpatrick fictionalizes the true story of Jennie Pickett. The story takes place in the post-Civil War era in the Oregon territory and spans much of Jennie's adult life. This format makes it so the author does not have to take liberties with much of Jennie's story.
The stories found in these pages are heart-breaking, poignant, and uplifting. Readers who enjoy romance and character building will find this to be pleasing, especially because it is based on a true story. Initially the book seems farfetched until reading the author's comments shows that historical evidence was the basis for the storyline. Many readers may find themselves sympathizing or empathizing with the struggles Jennie faces.
This is not a fast-paced story and not one that ends with everything being happy and joyous. As one ponders what events took place and places them in their appropriate historical context, respect and admiration for the strength and fortitude of early settlers grows. Kirkpatrick certainly gets readers involved emotionally and quietly leads us on a historical journey.
Content Analysis:
Profanity/Language: None
Violence/Gore: Several instances in which a man deliberately hits or shoves his wife; report of a prison guard striking his prisoners; report of a person dousing another in hot coffee.
Sex/Nudity: Report that a man visits a brothel; several mentions that a woman is a prostitute; non-married and married characters kiss and embrace.
Mature Subject Matter:
Substance abuse and addiction, spousal abuse, divorce, infidelity, death of child and spouse, sexual discrimination, terminal illness, learning disabilities.
Alcohol / Drug Use:
Adults reported to consume alcohol and snort cocaine; characters discuss moonshine; report that an adult allows a young child to become drunk; mention of medicinal addictions; report of a child being given cocaine and rum; adults and a child are addicted to multiple substances.
Reviewed By Susan