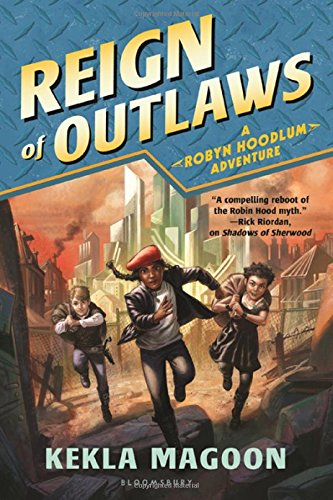 Publisher's Note:
When twelve-year-old Robyn Loxley set out to save her parents, she never could've predicted that she would become Robyn Hoodlum, leader of the rebellion against the harsh government led by Ignomus Crown. But Robyn's attempt to free her parents has failed, and on top of that, her friends have been captured. And now Crown has given her 72 hours to turn herself in--or else.
Now Robyn must decide between sacrificing herself, saving her parents and friends, or advancing the rebellion. With the stakes higher than ever, will Robyn be able to succeed?
With an unforgettable heroine and a diverse band of characters, readers will be on the edge of their seats in this action-packed, much-anticipated series conclusion.
This book was sent to Compass Book Ratings for review by Bloomsbury USA
Reign of Outlaws
by Kekla Magoon
Overall Review:
The Robyn Hoodlum Adventures continues in this next novel in the series: Reign of Outlaws by Kekla Magoon. After things didn't go quite as planned in the last novel, Robyn finds herself questioning her purpose in the rebellion, as well as wondering who she can trust. With a little soul-searching and a threat from Crown, Robyn begins to figure out who she is and her role in this rebellion that is set on bettering the lives of so many. As the series draws to a close, 12-year-old Robyn really grows up and finds her place in the chaos of her world. The series as a whole is a coming of age story that pays homage to the original Robin Hood, all while being set in a dystopian world.
As a conclusion to the series, Reign of Outlaws does a decent job of wrapping up all of the loose ends. To really understand what is going on, it's advisable to have read the other books in the series as each book builds on the last. A great series for those younger readers that enjoy the dystopian genre, but aren't ready for the more violent young adult novels.
Content Analysis:
Profanity/Language: None
Violence/Gore: Person threatens to destroy another person if they don't get what they want (2 times); person described as having a gunshot wound to the abdomen; person tackles another person to the ground; character remembers finding blood in the kitchen and their parents missing; description of boy who is tied up and forcibly taken somewhere; character is knocked down by someone in the police; person says he wishes to see someone's head in a vise; person orders to have someone strung up to get them to give information; short description given of someone who is chained up to some sort of torture device with no details given of what it does; mention of whip being used on someone; brief mention of wounds received from a beating; character is shown people who are chained up and have bruises from beatings; someone says they are there to kill someone else; mention of fights and chaos breaking out; person points gun at another person and says he will kill them; person tackles a person wielding a gun and knocks it from their hands; person fires a gun in the air and says it is time for the execution; person forcibly taken at gun point; a character presses a gun to another person's throat and threatens to kill them; character knees someone in order to free herself.
Sex/Nudity: Boy and girl hold hands; boy and girl hug; boy kisses girl (2 times); girl runs hands through boy's hair.
Mature Subject Matter:
Death.
Alcohol / Drug Use:
Person jokes how at least they aren't peddling drugs.
Reviewed By Sally