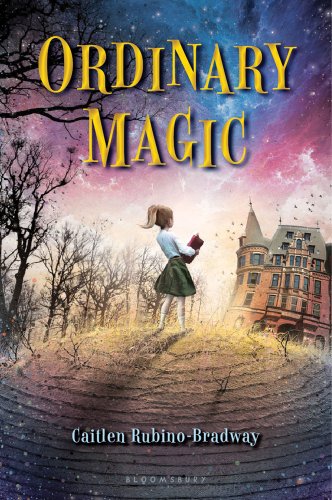 Publisher's Note:
In Abby's world, magic isn't anything special: it's a part of everyday life. So when Abby learns that she has zero magical abilities, she's branded an "Ord"—ordinary, bad luck, and quite possibly a danger to society. The outlook for kids like Abby isn't bright. Many are cast out by their families, while others are sold to treasure hunters (ordinary kids are impervious to spells and enchantments). Luckily for Abby, her family enrolls her in a school that teaches ordinary kids how to get around in a magical world. But with treasure-hunting kidnappers and carnivorous goblins lurking around every corner, Abby's biggest problem may not be learning how to be ordinary—it's whether or not she's going to survive the school year!
This book was sent to Compass Book Ratings for review by Bloomsbury Children's Books
Ordinary Magic
by Caitlen Rubino-Bradway
Overall Review:
In Abby's world, "ords"—ordinary people who can't do magic—are less than second-class citizens. To most people, they're nothing more than merchandise to be bought and sold. Although shocked to learn that their daughter is an ord, Abby's family isn't willing to trade her away. Instead, they send her to a special school where she will learn to live without magic—and meet a few adventures along the way! Ordinary Magic had me hooked from the moment I read its very unusual premise, and the book did not disappoint. Abby is spunky and endearing, her family is just the right degree of zany, and Caitlen Rubino-Bradway's crazy magical world is so well-imagined that it seemed to pop off the page. As fun and funky as the book's premise, world, and characters are, Rubino-Bradway also manages to endow her story with seriousness and heart. I enjoyed Ordinary Magic from the first word to the last! A great book for preteens, teens, and adults who still like to take the occasional flying carpet ride.
(This is a review of an advance uncorrected proof.)
Content Analysis:
Profanity/Violence:
***
Violence/Gore: A character has a black eye, and explains that there was an altercation. A character punches a character who is trying to kidnap him. There is a short (not intense) magical battle scene that takes place on flying carpets. Kids learn self-defense at school; one kid fights dirty, including scratching and biting fellow classmates (the incident is handled humorously). A character warns a group of children that goblins will try to hunt them and eat them. A character is kidnapped (in an extended scene that lasts several pages), but is not seriously injured and although the kidnappers are mean, they are not brutal. An authority figure plans to inflict a magical punishment on a criminal; the punishment (being "banished" to an undescribed sphere of existence) is not physically violent but is said to be hard to endure. A group of carnivorous goblins attack children and there is a brief battle scene.
Sex/Nudity: Adults flirt. Two adults kiss. An older teenage girl is said to go on a lot of dates and teased about needing to settle down with a husband. A preteen girl says that she's not supposed to read romance novels because of "all that kissing stuff."
Mature Subject Matter:
Prejudice, being different, parental neglect.
Alcohol / Drug Use:
Characters (possibly including minors, with the consent of their parents) drink mulled wine at a party.
Reviewed By CindyB