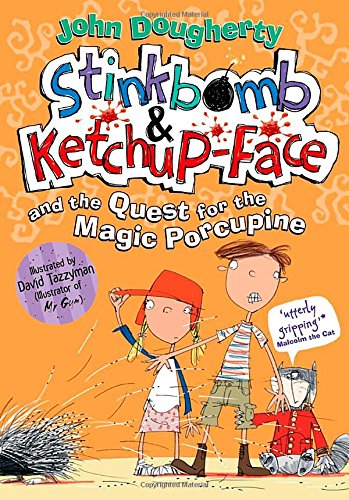 Publisher's Note:
The funniest, craziest book featuring bananas that you'll ever read! It'll have your sides splitting, your toes curling, and your nose twitching in that really annoying way that it does when you need to sneeze but can't.
This book was sent to Compass Book Ratings for review by Oxford University Press, USA; UK ed. edition
Stinkbomb and Ketchup-Face and the Quest for the Magic Porcupine, Book 2
by John Dougherty
Overall Review:
In the true spirit of boy's humor, this book is full of misadventure, sibling teamwork, and fun rivalry. The author's use of language and vocabulary make this story understandable and fun for young readers. Filled with animated & personified badgers who are a tad naughty, a Ninja Librarian who saves the day (we can only hope all librarians could live up to her standards), and two curious siblings, the action is never-ending. My imagination had room to play in this story and there are even a few fun and unexpected surprises along the way. Comically fit for the young at heart, it's also filled with lots of fun & useless tidbits that a young reader might enjoy. On the down side, it sometimes felt like a hamster on a wheel running full out yet getting nowhere and the author often seems rather fascinated with getting the characters to the next chapter.
With a boy and a girl main character, this book would be suitable for both male and female readers. The librarian is a strong, educated, and independent role model. This is book two in the series.
Content Analysis:
Profanity/Language: None
Violence/Gore: Maggots eating a dead rat, no gory details; trumpet thrown through a window hitting a boy on the head; girl hits boy repeatedly on head; poison darts, lava, evil animals try to hurt woman; people repeatedly accidentally step on cat's tail; woman threatens to chop off boy's head with her sword.
Sex/Nudity: None
Mature Subject Matter:
Peril.
Alcohol / Drug Use:
Mention of Grandma drinking too much wine at Christmas.
Reviewed By Beth