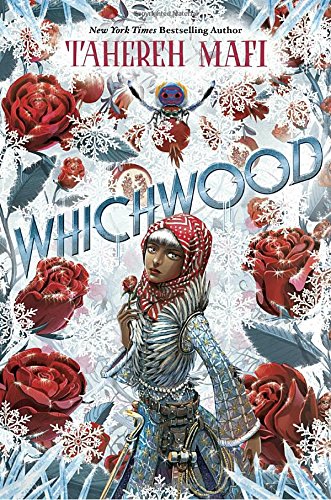 Publisher's Note:
Our story begins on a frosty night . . .
Laylee can barely remember the happier times before her beloved mother died. Before her father, driven by grief, lost his wits (and his way) and she was left as the sole remaining mordeshoor in the village of Whichwood, destined to spend her days scrubbing the skins and souls of the dead in preparation for the afterlife. It's become easy to forget and easier still to ignore not only her ever-increasing loneliness, but the way her overworked hands are stiffening and turning silver, just like her hair.

But soon, a pair of familiar strangers appear, and Laylee's world is turned upside down as she rediscovers color, magic, and the healing power of friendship.

Lush and enchanting, critically-acclaimed author Tahereh Mafi weaves together an all-new magical adventure in this dark, Persian fantasy, a companion to the New York Times bestselling Furthermore.
This book was sent to Compass Book Ratings for review by Dutton Books for Young Readers
Whichwood
by Tahereh Mafi
Overall Review:
In Whichwood, Tahereh Mafi tells the story of Laylee - a moredeshoor whose life mission it is to prepare the dead for burial and the next life. Mafri is a skilled storyteller. Her writing is lyrical and visual. It seems as if you are hearing the story from a friend, while at the same time feeling and thinking what the characters are. It is quite magical the way she has accomplished this.
One of the things I loved about this book is that Laylee is not a perfect heroine. She has real feelings, emotions, and reactions. She makes mistakes and learns from them. While the genre is fantasy, there are some correlations that could be made to the here and now.
The violence and gore are pretty intense in this novel. It is not for the faint of heart or sensitive. At first it seems strange, but manageable as you are discovering what she does as her purpose in the world of Whichwood. However, towards the end it is quite heavy and dark.
This book is a stand alone novel, but is enhanced by the first book, Ferenwood. Reading the first book is not necessary for comprehension as the author has added explanations and footnotes to assist the reader to know exactly what is going on. The only benefit of reading the first book before this one is to gain a greater understanding of two of the main characters. The novels themselves, however, are completely different - those who loved the first, may not find the second to be as enjoyable. While it is still magical, Whichwood is more somber and delves into deeper, sadder emotions.
Review of an Advance Reader Copy
Content Analysis:
Profanity/Language: None
Violence/Gore: Dead bodies dragged to tub, scrubbed, and hung to dry - mentioned a few times; death of parent and haunting of ghost; shed of dead, rotting corpses; washing of the dead; mental threat to kill 2 people; minor poked minor with a poker stick; minor pushes minor into the snow; mental verbal threat of wishing to die; shadows suffocating minors; decaying corpses lined up; tangled rotten heap of corpses; ankle snapped off of corpse leg and rolled to floor; pile of bodies with reference to a separated finger; half-melted bodies; bruised fists from knocking on a door; reference to a great and bloody ordeal - war; a few instances of minor contemplating impending death of self - non-suicidal; spirits of dead bodies steal skins of living - harvest flesh leaving living human to rot own blood - a few brief instances and one extended - extended involves description of persons with muscle and bone exposed, bleeding uncontrollably slipping in blood and bile with children watching; spirits who have taken over skins of living are disfigured; corpses come back to life; 4 dead; minor pulls toe and fingernails of dead and uses as nails in coffin; physical pains of minor dying; burned legs due to a house fire; blood dripped down snowy banks and streets; parent sentenced to death by disintegration of heart; minor bathes in tub of own blood as a tradition to cleanse; handcuffs cut wrists with minor blood; tens of thousands of preserved dead appear - disfigured; dead play with the living - throwing them, hurting them.
Sex/Nudity: Minor puts arm around minor's shoulders; romantic interest and feelings; minor holding hands; minor puts hand over another minor's hand; minor holds minor in arms; minor disrobes wet clothes following bath - no mention of body.
Mature Subject Matter:
Death, abandonment of child, death of parents, theft, verbal abuse.
Alcohol / Drug Use:
None
Reviewed By Lacey